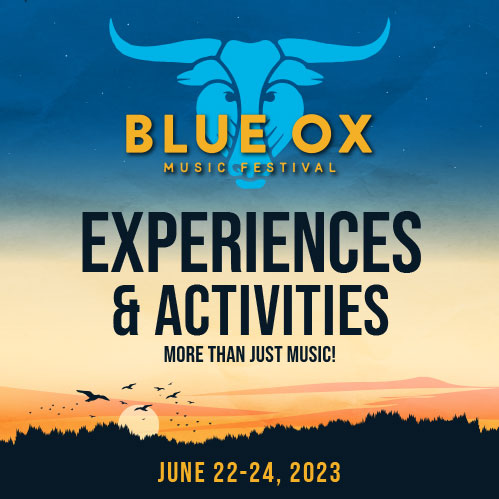 More than Just Music!
The overall Blue Ox Festival experience includes more than just 3 days of music. Blue Ox also features art installations, morning yoga, sound healing, instrument & songwriting workshops, campfire jams, 9 holes of disc golf, kids activities, hardgood/craft vendors, on-site camping, good vibes and more!
Art in the Pines 
An assortment of unique and engaging art created and installed by regional artists which you'll find within the campground and festival bowl. Lots of magic and wonder surround the art installations this year and we can't wait to see everything come to fruition next month! Learn more about the installations HERE!
The Soul Sanctuary – Located in the Prairie 
A wellness tent where you can find balance, recharge, restore, and connect consciously with the festival community. Highly vibrational offerings that compliment festival culture will include yoga, sound healing, meditation, breathwork, dancing, community ritual, education workshops and more! View Schedule HERE
Campfire Jams at the Potluck Pickin Place – Located near Eagle Camp in Unreserved Camping 
In addition to performing on the Backwoods Stage this year, Potluck String Band are also our gracious hosts of the Potluck Pickin' Place.
Potluck String Band
creates the perfect setting for the Blue Ox community to gather around their campfire. A place where you can meet new and old friends and pick (or listen) to music during the day or until the sun comes up. So don't forget to bring your instruments to join in campground jam sessions.
Hardgood/ Craft Vendors 
While at the festival, you can shop at an assortment of craftsman and artisans in our vendor court. Official Blue Ox Music Festival 2023 Merch and Artist merch will also be available for purchase on-site. View Vendor Lineup HERE
Family Stage and Activities – Located in Family Camp 
At Blue Ox, we offer a music and camping experience the whole family will enjoy which is why children 13 and under are free with paid admission.
New this year, we are pleased to announce that Beaver Creek Reserve (Eau Claire, WI) will be joining Boats & Bluegrass (Winona, MN) to present activities at the Family Stage. Activities include Family Yoga, Live Animal days, live music with special guests, face painting and more! View Schedule HERE
Music Workshops – Potluck Pickin Place & Backwoods Stage 
Blue Ox is pleased to present its instrument and songwriting workshops. *New* this year is a clogging workshop presented by the Wild Goose Chase Cloggers.  Learn more about Bluegrass, Americana, Roots and traditional string genres of music from excellent instructors. View Schedule HERE
*Workshops will provide a beginner level instruction. Patrons are encouraged to bring their own instrument and chair.
Eau Claire Body Care Hydration IV Drips – Located in the Festival Bowl 
A fun team of nurses from Eau Claire Body Care will be on site providing Hydration IV Drips that will keep you energized and feeling amazing all festival long.
Available:  Thursday – Saturday from 8am – 2pm!
Hydrate – A powerful combination of antioxidants blended in one IV treatment.
Detox – Fatigue or discomfort keeping you in your tent? Detox your body and regain your clarity and drive instantly.
Energize – Physically and mentally struggling to get through the long festival day? Refresh with a fluid energy boost to maximize potential and regain your performance.
IV Drips will be located near the Hydration Station/Festival Bowl entrance and you MUST Pre Book your drip. Plan for 45 minutes. Eau Claire Body Care will make sure you are comfortable and don't miss any music. Schedule your drip HERE
9 Holes of Disc Golf – Located in the Prairie 
Don't forget your discs! We have 9 holes of disc golf at the festival, located out in the Prairie!
---
Introducing The Hammock Grove!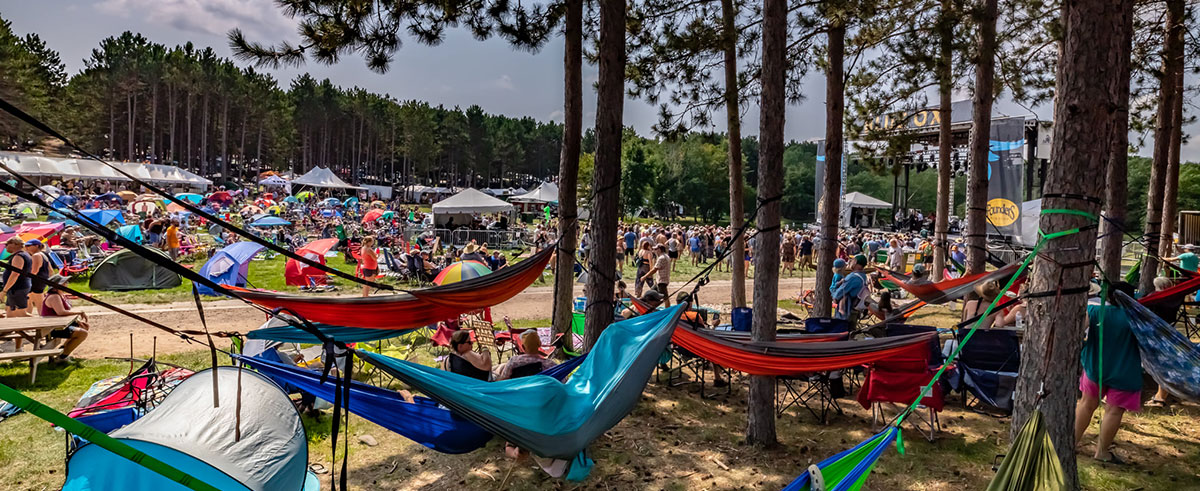 We're a community here so let's come together to create a community space for rest. All are welcome to hang up hammocks within this area and all Blue Oxers are welcome to occupy any unattended hammock. Unfortunately, we do not have space for everyone to hang a hammock, but if we share, then we can all enjoy this relaxing space together.
*If you don't want anyone else using your hammock, then please refrain from hanging your hammock in the Community Hammock Grove, located to the side of the main stage.
Thank you sharing and caring!