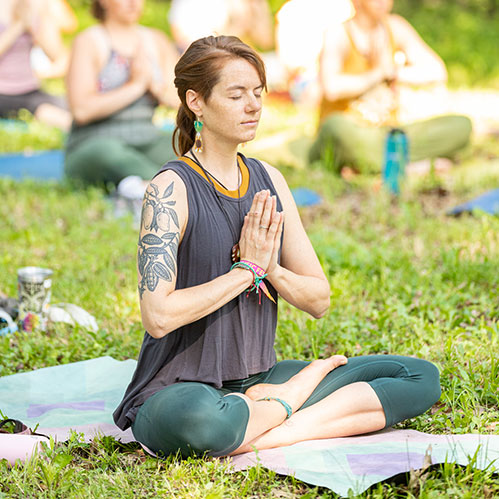 The Soul Sanctuary 2023
Wellness & Sound Healing Tent
Presented by Meggan Emily and Mike McGuigan 
The Soul Sanctuary is a wellness tent where you can find balance, recharge, restore, and connect consciously with the festival community. Highly vibrational offerings that compliment festival culture will include yoga, sound healing, meditation, breathwork, dancing, community ritual, education workshops and more! Bring your own yoga mats, blankets and other needed props for comfort.  All are welcome!   (Schedule and full class descriptions below) *Exact times TBA
*NEW* Location:  The Soul Sanctuary Wellness & Sound Healing Tent is moving to the Prairie. This move will allow participants a quieter space for reflection and peace of mind during workshops without sound distractions from the festival bowl. There is more space and flatter ground in the Prairie which will allow for a more ideal foundation for yoga and other offerings. 
Thursday, June 22 (3:00 – 4:00pm)
Opening Ceremony & Community Blessing
Friday, June 23 (9am – 5pm)
Morning Yoga & Sound Healing with Meggan, Mike & Maja Videnovic

Revealing Our Sky: Astrology with Timmin

Venus Gong Mediation with Karen Tlusty-Rissman & John Rissman

Solstice Community Circle with Tricia Meeley

Recharge & Restore: Afternoon Yoga & Yoga Nidra with Dawn Simpson

Shroomin' on the Homestead with Appy & Eric of Stoned Fairy Farms
Saturday, June 24 (9am – 5pm)
Morning Yoga & Sound Healing with Meggan, Mike & Maja Videnovic

Mantra, Music & Meditation with Meggan Emily & Friends

Earthing, Herbalism & Intuition with Michelle Gantner of 13 Moons Apothecary

Bizarre Bazaar with Rebecca Ficarella & Friends 

Afternoon Yoga & Activation with Michelle Anthony 

Crystal Bowl Sound Healing & Group Energetic Healing with Mike McGuigan & Friends
Pop-Up Sessions – New in 2023!
Throughout the weekend, members of the Soul Sanctuary Troupe will pop-up offerings such as oracle card readings, reiki sessions, herbal consultations, astrology readings and more!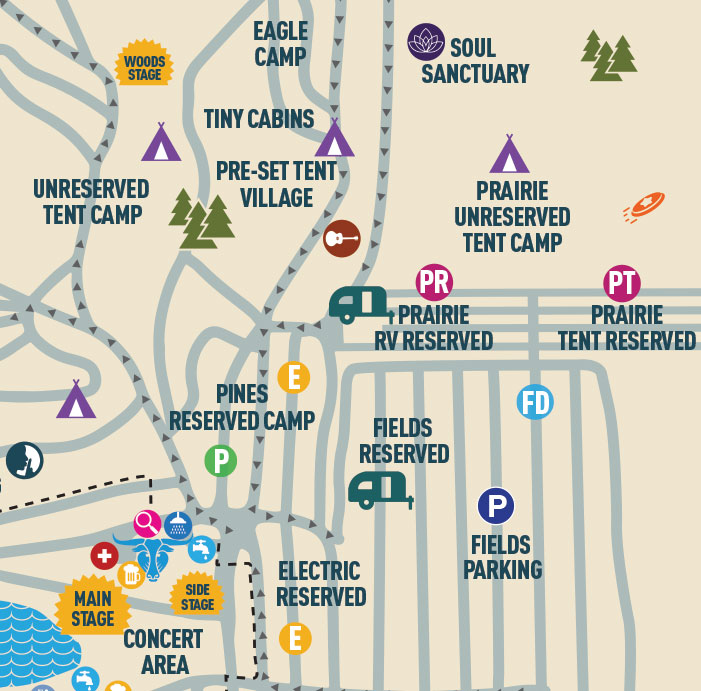 ---
Thursday, June 22nd
3:00pm – 4:00pm – Soul Sanctuary Activation Opening Ceremony & Community Blessing 
Join the Soul Sanctuary Troupe in a ceremony that will mindfully open our circle for the festival weekend. Members of the troupe will dedicate, clear, bless and activate the space where we will gather throughout the weekend as a community. We will set a shared intention to cohabitate and co-create in a way that evokes the highest good of our collective.
Friday June 23rd (9am – 5pm; exact times TBA)
Morning Yoga & Sound Healing with Meggan Emily, Mike McGuigan & Maja Videnovic
Meggan, Mike & Maja return to Blue Ox, offering morning yoga, sound healing and meditation.  Students will move and breath through an all levels practice, designed to purify and awaken the body, mind and soul for a day of festival! This class is a Blue Ox tradition and will inspire students to connect to self and community through a healing practice. Please bring your own yoga mat and props.  (1 hour long class)
Revealing Our Sky: Astrology with Timmin
Join Timmin for a light discussion on the Planets in Our Sky! Discover how placement, the houses and the Zodiac wheel may be affecting you and others around you. During this 60-minute talk you may find inspiring ways to harness certain strengths that our planets have to offer…. or is this your time for reflection, introspection & learning?
Timmin is a Licensed Massage Therapist with training in Reiki and Yoga. Timmin began her astrology journey in 2020 in search of a deeper connection with the community she works with.  Through her classes and fellow astrologers, Timmin has found understanding and compassion for the many different personalities in our world. Timmin is able to deliver personalized care to her patients and clients by working with the position of our planets and the signs of the Zodiac.
Venus Gong Mediation with Karen Tlusty-Rissman
Join Karen & John for an hour of exquisite vibrations! Sounds of the Venus gong, Native American style flute, Tibetan bowls and other instruments create a heightened meditation space that supports us in directly connecting to our deepest source of wisdom. Current astrological influences will be discussed, helping us align with celestial energies that assist our evolutionary growth and empower our intentions. Please bring a yoga mat, blanket, pillow or anything else you may need to lie still on the floor, as lying down is the most effective position to work with the energy of the gong.
Karen Tlusty-Rissman is a musician, astrologer, meditation facilitator and ceremonialist. She plays the Venus gong, Native American flute, concert flute, bass guitar, Tibetan singing bowls and more. She leads a variety of classes that involve sound, shamanism, visual art, aromatherapy, crystals and guided meditation.
Solstice Community Circle with Tricia Meeley
The days are the very longest and the nights the shortest in the days just after the Summer Solstice. This is the noontime of the growing cycle when all living beings are soaking up solar energy until long into the evening hours. All are welcome to gather in sacred space to connect to one another in community through an old solstice story about careless wishes, unintended consequences, and the healing possible beyond ourselves when we listen to our own inner guidance. You will have an opportunity to share what comes up for you, to release what does not serve, and to listen to yourself and others as we honor our journey of the sun through the wheel of the year.
Tricia is a teacher and student of  story and the stars dedicated to the universal truths of the natural world both seen and unseen. She is most at home at the intersection of ancient tales, the movement of the cosmos, and the experience of the individual. Tricia is renowned for her capacity to hold space for others to access their own inner truths, co-creating sacred space with groups and individuals through circles, one on one consultations, and through The Wheel Essential – simple kits for devotion to the natural rhythms and cycles of every polarity. In her astrological practice, Tricia provides insight into relevant themes empowering your highest self to speak wisdom to your heart.
Recharge and Restore: Afternoon Yoga and Yoga Nidra with Dawn Simpson Branham
Come refresh your body, mind, & soul before you boogie the night away. In this 45-minute class, we will spend the first 30 minutes moving through an all-levels Hatha flow practice designed to stretch and reinvigorate the whole body. This will be followed by a 15-minute guided yoga Nidra meditation, allowing you to melt into the Earth and release all tension from the body. Yoga Nidra is also known as the sleep of the yogis. You can think of this effortless meditation that is practiced lying down like a nap for the soul. The meditation includes guided breathing and body scan as well as creative visualization. You will leave this class feeling grounded, relaxed, uplifted, and ready to move into your festival evening with ease in your body and a smile on your face. Please bring your own yoga mat and props, including a blanket for yoga Nidra if desired.
Dawn Simpson Branham, PhD is a multi-passionate yoga & meditation teacher, certified counseling astrologer, and transformational travel guide with one goal: to help you come back home to yourself and live a life you love. Based on her own journey to heal deep wounds  around personal empowerment and self-worth combined with her professional background and training in education, astrology, yoga, meditation, transformational travel and psychology, Dawn creates engaging, uplifting, and empowering courses, workshops, retreats, and 1:1 containers. Her Cancer Sun, Sagittarius Moon, and Aquarius Rising cosmic combo brings a sense of compassion, adventure, and creative inspiration to all she does. You can connect with Dawn through her online community The Global Dawn.
Shroomin on the Homestead with Appy & Eric of Stoned Fairy Farms 
Join us as we share our journey with fungi on the homestead. We will explore fungi's various roles as food, medicine and mighty decomposers. Learn how to apply practical, low tech methods to bring greater vibrance and diversity to your land.
"We're a small family-owned mushroom farm in Northwest Illinois. We provide local, organic mushrooms, plant medicines and pastured meats to our customers, as well as create space for open dialogue on consciousness expanding topics.  Appy is a traditional healer who practices plant and fungi medicine. She holds knowledge and experience in the use of entheogens, contraindications, dosage for adults and children, advanced extraction methods and bio regional plant and fungi identification and medicinal use. She treats holistically, addressing everything from the quantum level up to the planetary energy and alignment to support the whole person through transformation and healing. Eric is a mushroom farmer and extraction specialist. He has worked with many varieties of fungi, running the range from lion's mane to psilocybe species. He spends much of his time sharing cultivation experience with eager students, and spreading his love for the fungal queendom." – Appy Ramon and Eric Hanson from Stoned Fairy Farms
Saturday, June 24th (9am – 5pm; exact times TBA)
Mantra, Music & Meditation w/Meggan Emily & Friends
Mantra is a sacred gateway to meditation and meditation is a pathway to the Sacred Self.  The BLOX community knows well that music heals and by joining our voices together in a circle, we unify and co-create an experience of expression and celebration!  In this session, Meggan will offer a selection of traditional yogic, Sanskrit, Hindu and Buddhist chants, as well as some original work.  You are invited to join in on singing or to simply meditate on the sounds.  All are welcome! Arrive ready to sit comfortably.
Through teaching yoga and sharing music, I hope to inspire your creative expression of embodiment.  I am dedicated to offering authentic, student centered yoga that is both current and deeply rooted in its' Indian origins. I lead students in their practice, by providing a safe, welcoming and challenging environment in which to breathe and move. I have been a  student of yoga for 25 years and a teacher for 12. As a musician, I was introduced to drum circles while following the Grateful Dead beginning at the age of 16. Now, over 30 years later, my love of all things music has evolved into playing hand drums, various percussion instruments, the ukulele, shruti box and beginning harmonium. In recent years, I have written several original songs in the genres of kirtan, devotional singing, traditional mantra, folk and acoustic originals. Music and movement are my medicine!. I am a Mother, a yogi, a vegan, a writer, an earth steward and a wanderlust.
Earthing, Herbalism & Intuition with Michelle Gantner
You are invited to the Soul Sanctuary to recalibrate, rejuvenate, and anchor yourself with a guided Earthing session. You will be invited to engage your intuition and wisdom to listen for what herbal allies call to you. Working with herbs intimately helps to strengthen your internal relationship with yourself, the Earth, and others. This session is for you if you desire to activate your inner senses with herbal celebration! Please bring any item (pillows, blankets, water bottle, yoga mat) that will support you through our time together.
Michelle Gantner is a herbalist living in Louisville, KY, and is the creatrix of 13 Moons Apothecary. She has over 20 years of healing practices in her toolkit and loves sharing what she has learned. Michelle lives a lifestyle that includes being in nature as much as possible. She enjoys exchanging sacred reciprocity with the Earth and modeling this for others. Michelle's mission is to share herbal practices so that people have access to make informed choices for their health care. She is an advocate for personal power and sovereignty. On this journey, she has learned that nature is what we are in our essence (wild and free) and she loves to be a mirror for this remembrance.
The Bizarre Bazaar with Rebecca Ficarella & Friends
Rebecca welcomes you to a safe space of creative exploration and play during our Bizarre Bazaar hour at Blue Ox Music Festival, located in the Soul Sanctuary. Juggling, face and body painting, hoops, community mural, oracle card reading, acro-partner yoga, Big Bubble making, dance movement and so much more! Come lift your spirit and awaken the creative child within to explore the joy of expression in a community gathering. Let your creative juices flow!
Rebecca Ficarella has actively been serving her local community this past decade in all things fun! Her resume includes teaching yoga to children and adults, leading community singing, dancing, and concert events, large community game & craft activities, and group volunteer events. Rebecca has a deep passion to share passions and express emotions through movement, art & music. May we each find that thread of inspiration together during our time at Blue Ox and share that ripple of joy outward to our communities. Blessed Be!
Yoga & Activation with Michelle Anthony
This 45 minute workshop will be the perfect midday pick me up to re-energize your body and mind. You can expect an alchemical mix of classical asana, flow, and kundalini kriyas that combine breath and movement. Class ends with a unique savasana experience that combines breathwork, hypnosis, and akashic wisdom.
Michelle is a 500 hour trained yoga teacher, CE provider, Reiki master, intuitive & akashic reader, and entrepreneur. She has been studying & teaching yoga for over 10 years. It was during her first yoga training in Canada that she had her first "spiritual awakening", forcing her to face her fears and step into her gifts.  Her mission is to guide you through your human experience by offering the tools, support, and systems that help reduce your suffering and bring more joy into your life.  Michelle is also an advocate of play and has trained in several movement modalities including aerial yoga, acro, and pole. She is the current owner & co-founder of Moonrise Aerials located in Banbury Place in Eau Claire, WI.
Crystal Bowl Sound Meditation & Energetic Healing with Mike McGuigan & Friends
Join us in the Soul Sanctuary for a unique experience of Sound Vibration Immersion & Group Reiki Healing. In this session, Sound Healer, Mike McGuigan will use the powerful vibrations from Crystal Quartz Singing Bowls to help restore, refresh, and rejuvenate your body, mind, and soul. Soul Sanctuary troupe members will simultaneously offer reiki and hands on healing to participants, helping them to relax, purify, balance, and restore. Please bring mats, blankets, pillows, and other needed props for comfort.
Mike McGuigan brings over 20 years of experience as a multi-instrumentalist, playing music professionally both as a live performer and as a recording studio artist. Mike and music have been synonymous since a very young age. An outstanding Music Program at Batavia (IL) High School helped earn Mike a music scholarship to Western Illinois University. After college, Mike continued performing professionally in various Jazz Ensembles and Rock & Roll bands in suburban Chicago. In 2015, Mike completed training with the Vibrational Sound Association, and began his career as Sound Therapist and Sound Healer. Mike now owns a Holistic Health Company, Emphasizing on Sound Therapy, Crystal Singing Bowls, and Reiki.  Mike is a Reiki Professional, for both humans and animals, and has built and grown a successful practice as Reiki Professional for Vitality Animal Chiropractic Center in Aurora, IL.
Oracle Card Readings with Maja Videnovik

*Pop-Up Sessions
Maja is an experienced Holistic practitioner on a constant continuum of learning and advancing her practice. Yoga has opened her heart & mind, stabilized her relationship with commitment to self actualization, and ignited her passion for celebrating presence. As she continues her lifelong journey of her human experience, she is excited to share what she learns with her students. Maja is a licensed massage therapist, CranioSacral/Somato Emotional Release Therapist & a Reiki Master. She incorporates breath work, meditation, patience & love into every exchange. Maja will offer pop-up Oracle Card readings throughout the weekend, where you will see her many gifts culminate into a powerful and wisdom filled experience.