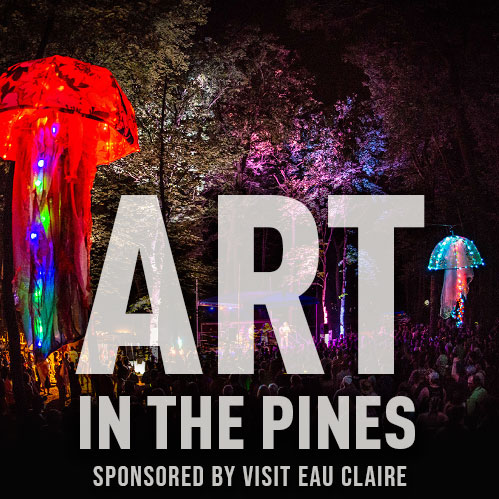 2023 Art in the Pines
Art Installations at Blue Ox 2023 sponsored by Visit Eau Claire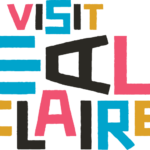 Art in the Pines is an assortment of unique and engaging art created and installed by regional artists which you'll find within the campground and festival bowl. Lots of magic and wonder surround the art installations this year and we can't wait to see everything come to fruition next month!
Congratulations to the applicants who were chosen to be a part of Art in the Pines at Blue Ox 2023!
(We had a lot of great submissions and appreciate every one who submitted an idea this year.)
Blue Ox Shrine – Emma Murano & Andy Caron
An ode to the Blue Ox magic, the shrine provides a space for festival attendees to gather, place offerings, and set intentions. The shrine contains a welcoming glow of light at night and a prominent presence during the day with the focal point of an abstract and ornate Blue Ox. You are welcome to explore the shrine and it's forest themed details which will be placed with intricate intention. A secret message or two may be included.
Celestial Garden – Hive + Hollow 
A magical celestial woodland garden, dripping with glowing blossoms. Sit inside their crescent moon under a glow in the dark floral canopy and let the sound of music and the pines wash over you. The display features a handcrafted glow in the dark crescent moon, dried and fresh flower installations, fairy lights, black lights and bubbles. Magic!
Location: Music Festival Bowl 
Neon Forest – Haley and Eric Pratt (Congrats to the newlyweds) 
A retro inspired neon sign and a school of glowing jellyfish light the way and add surreal nighttime magic to the Backwoods Stage!
Location: Backwoods Stage area within unreserved GA camping
Positivity Rocks Blue Ox – Christy Puddy
Painted art stones scattered throughout the grounds encouraging joy and positivity! Find one? Keep as a reminder of the awesome times you had, re-hide for another to fine, or share with a new friend.
Location: Along pathways within the campground 
Up and Away – Jennifer Castellano-Sanguine Art Studio 
Hand woven hoops, inspired by bubbles and the joy they bring to families and many others.
Sanguine Art Studio Facebook Page
Location: Along pathway leading to Backwoods Stage 
Tree Sprites – Susan Curry
Originating from Celtic mythology, Sprites are known to be tricksters with magical powers. Mostly made of organza and satin fabrics, these brightly colored creatures will light the forest at night. Fairies and other surprises can be found hidden within them. Look closely and see what you can discover!
Location: Family Stage 
Mystical Mushroom Forest – Lindsey Tess and Sammie Jasper 
A glowing mushroom sculpture forest representing a mycelial network. Meant to serve as a space of grounding energy that welcomes all to come and enjoy its ambiance.
Location: Along pathway leading to Backwoods Stage 
Troupe Phantôme Phantoche – Rodney Arthur and Stacey Huffstutler 
Deep in a sylvan glen, succeeding Skinfaxi's crepuscular return to the stables, Edison's embers conjure contours of faux figurantes. The operators engage the mechanisms. The momentum transfers from the observers to the observed. How then does the net energy tend to exponentially increase? It appears to funnel the accession directly from the void. They run the calculations, but realize solutions are likely beyond things measurable. So they release their preconceptions and savor the marvel. Their progeny, likewise, revel in the wonder.
Location: Music Festival Bowl 
Babe in the Pines –  John Kowalczyk
Find the glowing Blue Ox Mural in the Pines! A wall of cellophane between trees will serve as a canvas for our favorite festival mascot, the Blue Ox, painted by muralist John Kowalczyk in his signature style.
Location: Along pathway leading to Backwoods Stage 
Lofty Dreams –  Zach Tauer & Friends 
Using the shape of traditional bluegrass instruments, the artists overlay an imagery of color, using elements of abstraction, conception, and expression. UV reactive paint and UV lights are used to create a special nighttime interactive experience. This installation debuted at Blue Ox in 2021. Artists who helped see this project to fruition: Peter Whiteman, Emily Bressler, Jelly, Tara Murphy, Yuya Negishi and Zach Tauer.
Location: Potluck Pickin Place
"If Only, If Only" –  Nora Phillips (Olvi Glass) 
Take flight with these life-sized stained (plexi) glass wings.
Location: The Prairie