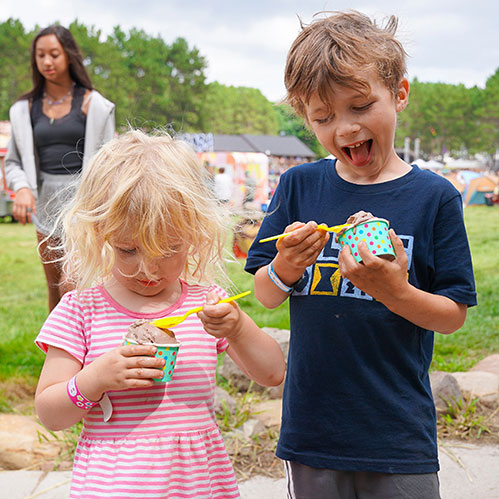 Food Lineup 2022
Beer battered cheese curds, gourmet grilled cheese, wonton tacos, Gyros, ice cream and So. Much. More!
-Vendors also serving delicious non-alcoholic beverages such as a variety Boba Tea, Cold Brew, and Kombucha.
*Vegetarian and Vegan friendly options available.
*All menus subject to change.
>>The Beer Tent and Blue Ox lodge accepts cash ONLY so please come prepared. There will be an ATM on site if you need this.
>>Most Food vendors accept cash only, some also accept card.
Food Vendor Lineup (menus below)
Dairyland Curds, Dhimiters, Hot Box Pizza, The Hubb, Live Great Food, Olson's Ice Cream, Pete's Pops, Shift Coffee, Super Heady Grilled Cheese, Tri Boba Tea, Unami Bites
---
DIARYLAND CURDS
Vegetarian friendly
Beer Battered Cheese Curds, Beer Battered Mini Dogs, Chicken Fries, Loaded Tots, Pretzel Bites with Nacho Cheese, Mini Tacos. Soda and Bottled Water.
Vegetarian  friendly
Gyro, Bigboy, Salads, Fries, Soda and Bottled Water.
Vegetarian, Vegan friendly & Gluten Free 
Fresh Squeezed Juice and an assortment of Quinoa Bowls.
Vegetarian & Vegan friendly
Family owned and operated food truck. Sourced from local farmers.  Tempura Pickled Veggies, Fry Bread Tacos, Pulled Berkie Sliders, LGF Farmburger, Roasted Chicken Club NaanWhich. 
Local Chippewa Valley Cool Sweet Treats. Ice cream served in a cup, cake cone or waffle cone, Shake/Malt, Root beer Float, Ice Cream Sandwiches, Waffle with syrup and butter, Waffles with Ice Cream Sundae Toppings. Root beer and bottled water.
Popcorn: Carmel, Carmel Pecan, Carmel Cashew, Chocolate Drizzle, Cheddar, White Cheddar, Olson's Mix, Birthday Cake, Dill Pickle, Jalapeno…
Handmade popsicles made with fresh fruit.
Local Eau Claire Coffee Shop offering Batch Coffee, Cold Brew, old Brew Latte, Herbal Iced Tea, Hot Tea and Kombucha. Liége Waffles and Zucchini Bread. Bottled water.
SUPER HEADY GRILLED CHEESE
Vegetarian friendly
Gourmet Grilled Cheese, Tomato Soup, Chips, Pasta Salad and  Fresh Squeezed Honey Ade.
Breakfast Burrito, Protein Pancakes, fruit bowl and fresh squeezed orange juice.
Boba Tea served over Ice or Blended (Taro, Black Tea, Green Tea, Brown Sugar, Thai and Coconut), Iced Chai, Lotus Energy Drink Mixed with Soda, Bottled Water and Soda.
Vegetarian & Vegan friendly (Gluten Free Available)
Wonton Tacos: Crunchy, hand-fried tacos with choice of: Braised Pork, Chicken and Chorizo or Vegetarian Black Bean.
Pork & Ginger Potstickers served over rice (Vegan options available), Flash Fried Brussel Sprouts, Vietnamese Spring Rolls (Vegan, Gluten Free fresh Rice paper rolls).
*All menus subject to change.