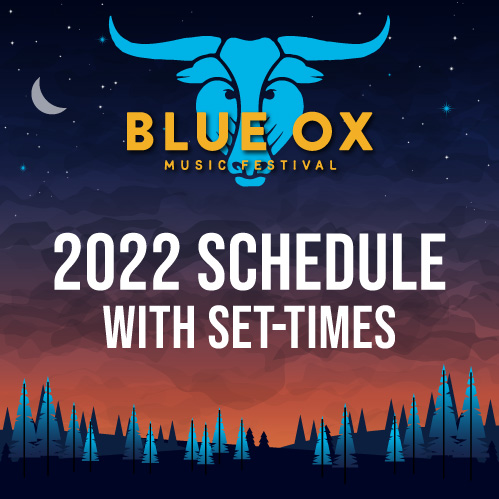 2022 Schedule
Here's our set times for all three stages at the 2022 Blue Ox Music Festival.
Check out who's playing each day, at what time and on which stage! Follow us on Facebook for schedule/set-time updates!
Download Printable 2022 Blue Ox Schedule –  PDF
2022 Official Playlist!!
𝗦𝘁𝗲𝗽 𝟭: Hit Shuffle on one of our 2022 Official Playlists: Listen on TIDAL HERE or Spotify HERE
𝗦𝘁𝗲𝗽 𝟮: Listen to it on repeat for the next couple of weeks.
𝗦𝘁𝗲𝗽 𝟯: Hear it live in less than 21 days at The Pines!
3-day, 2-day (Fri + Sat) and 1-day Saturday tickets available at the gate!
*Children 13 and under are free with paid admission.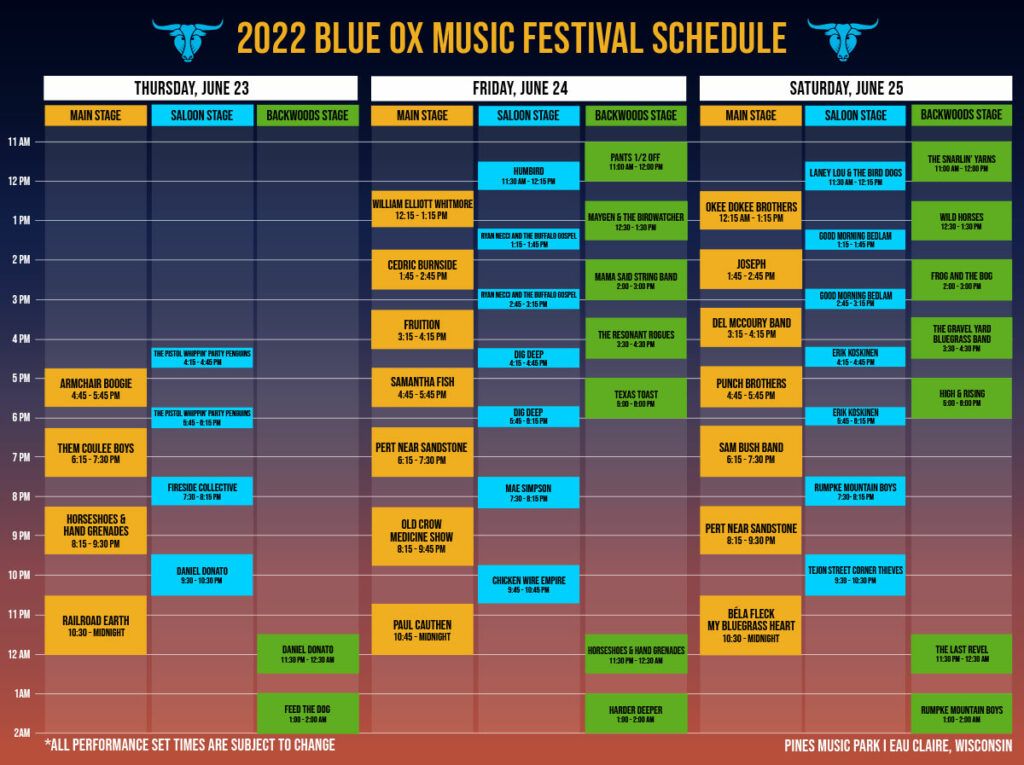 *Lineup and all set-times are subject to change. Follow us on Instagram and/or Facebook to keep up with any updates.
—
Gate Hours:
Campgrounds open Thursday, June 23rd at 7:00 AM
NO overnight or early lining up for campground entry will be allowed. If you arrive early, you can park in our off-site lot at 3443 Crescent Ave until the campground gates open.
Those with a reserved campsite (Electric, Pines, Family, Fields, Prairie RV, Prairie Tent, Pre-Set Tent Camping, Bungalows) will be able to move in 1-day early (Wednesday) and will receive sign up information via email closer to the festival dates.
Those who plan to car camp or set-up tents in an unreserved camping area (Unreserved GA, Unreserved Family, Unreserved Quiet) will have to wait until Thursday at 7:00 AM to access the campgrounds. If you are camping in unreserved and would like to sleep in your car or park your car next to your tent, then you will have to purchase a Car Camping Pass.
—
Thursday Check-in Hours: 7:00 AM – Midnight
Friday Check-in Hours: 9:00 AM – Midnight
Saturday Check-in Hours: 10:00 AM – Midnight
**ALL ARRIVAL INFORMATION COMING SOON**