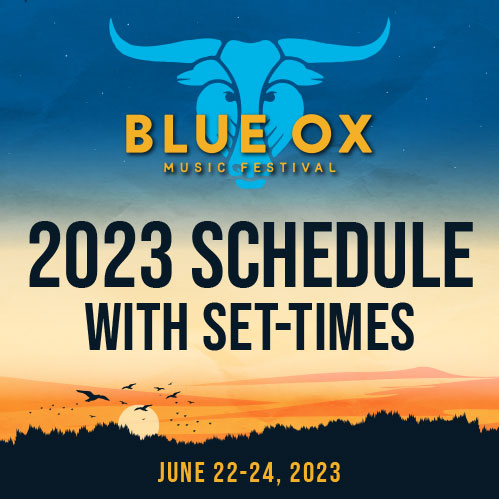 2023 Schedule
Check out who's playing each day, at what time and on which stage! Follow us on Facebook for schedule/set-time updates!
Download Printable 2023 Blue Ox Schedule –  PDF
2023 Official Playlist!!
𝗦𝘁𝗲𝗽 𝟭: Hit Shuffle on one of our 2023 Official Playlists: Listen on TIDAL HERE or Spotify HERE
𝗦𝘁𝗲𝗽 𝟮: Listen to it on repeat for the next couple of weeks.
𝗦𝘁𝗲𝗽 𝟯: Hear it live at the Pines soon!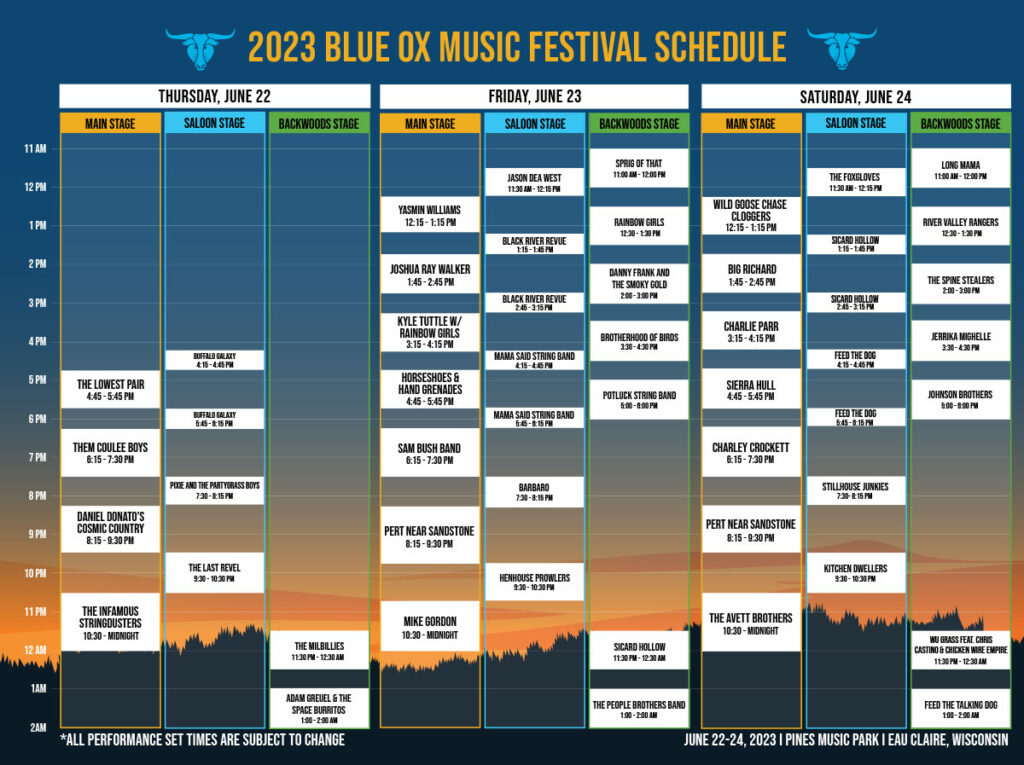 *Lineup and all set-times are subject to change. Follow us on Instagram and/or Facebook to keep up with any updates.
—
Activities & Workshops!
*Click on the below graphics to enlarge schedules
Learn more about the Soul Sanctuary Schedule HERE
Learn more about the Music Workshops Schedule HERE
Learn more about the Family Stage Schedule HERE
—
Blue Ox 2023 Sold Out!
Reminder: Blue Ox 2023 is SOLD OUT! Please do not show up at the gate without a ticket as we will not be able to sell you one.
Still want to join us this year but missed out on tickets? Have plans changed and you can't make it anymore? We have teamed up with CashorTrade as the official fan-to-fan ticket exchange for Blue Ox 2023.
*Children 13 and under are free with paid admission.
—
Festival / Campground Gate Hours!
*Each person entering the campground gate MUST have a Blue Ox 2023 admission ticket. Kids 13 and under are free.
*NO dogs/pets allowed in campground or festival bowl. Please DO NOT bring your pet! 
Wednesday Check-in Hours: Open ONLY to those with a Wednesday Night Camping Ticket or Reserved Campsite!
Thursday Check-in Hours: 7:00 AM – Midnight
Friday Check-in Hours: 9:00 AM – Midnight
Saturday Check-in Hours: 10:00 AM – Midnight
*NO overnight parking or early lining up for campground entry will be allowed. If you arrive early, you can park in our off-site lot at 3443 Crescent Ave until the gates open.
**ALL ARRIVAL INFORMATION COMING SOON**