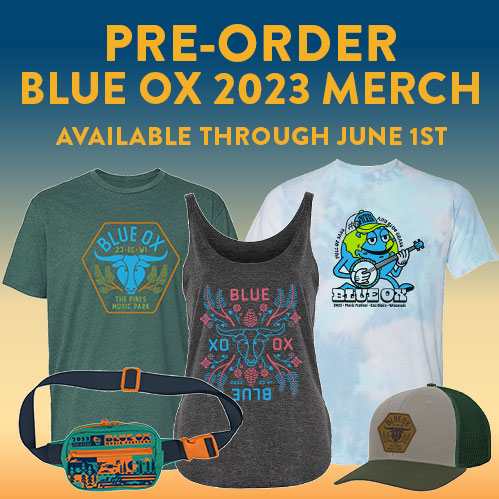 Pre-Order 2023 Merch
ONLINE STORE CLOSED!
Browse our Blue Ox 2023 Merch collection online now until Noon on June 1st. Pre-order to guarantee you get the design you like in your size without worrying about it selling out at the festival.
How does it work? Purchase any item(s) you like online until Noon on June 1st, and we'll bundle it together for you to pick up during Merch Tent hours at the festival June 22-24, 2023.
Merch Tent Hours: Thursday, Friday & Saturday: 10am – Midnight
Promo: Spend $150 on merch and receive a free Blue Ox tote!
*Additional sizes can be ordered online that will not be available on-site at the festival.
---
Pick up Instructions: 
This is a pre-order that you will pick up AT THE ACTUAL EVENT from June 22-24, 2023 in Eau Claire, WI. No products will be shipped to you.
Please bring your order number, order email, and phone number with you to the Festival Merch booth located within the festival bowl so we can verify your order. We will have a window specifically set up for Will Call Merch and you can pick up your order there!
Please be aware the charge on your credit card will read: Special Buy from powertexgroup.com – 1-800-588-7111
Any questions about merch should be directed to Powertex:blueox@ptxstore.com 
No refunds allowed. Exchanges can be done at Festival Merch booth during the event.