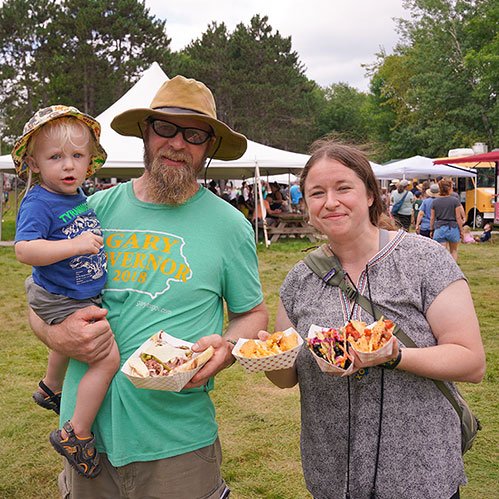 Food Lineup 2023
Beer battered cheese curds, gourmet grilled cheese, wonton tacos, Gyros, ice cream and more! Vendors also serving delicious non-alcoholic beverages such as a variety Boba Tea, Cold Brew, and Lemonade
Vegetarian and Vegan friendly options available.
The Beer Tent and Blue Ox lodge accepts cash ONLY so please come prepared. There will be an ATM on site if you need this.
Most Food vendors accept cash only, some also accept card.
All menus subject to change.
Food Vendor Lineup (menus below)
BBQ Cabin, Dairyland Curds, Flips Mini Donuts/Coffee, Live Great Food, Olson's Ice Cream, Pete's Pops, Super Heady Grilled Cheese, The Hubb, Tri Boba Tea, Umami Bites
---
BBQ CABIN
Lunch/Dinner: Pulled Pork, Sloppy John/Jenny, Cowboy Nachos, Jerk Chicken Thighs, Smoked Brat, Baby Back Ribs, Pulled Pork with Cheddar, Sides: Coleslaw, Beans, Potato Chips
Drinks: Soda, Ice Tea
DIARYLAND CURDS
Vegetarian friendly
Lunch/Dinner: Beer Battered Cheese Curds, Mini Corn Dogs, Chicken Tenders, Mini Tacos, Loaded Tots and Deep-Fried Pretzel Bites.
FLIPS MINI DONUTS
Vegetarian  friendly
Cinnamon Sugar, Powder Sugar or Frosted Donuts, Hot Coffee, Cold Brew Coffee, Tea, Lemonade, Water
Vegetarian & Vegan friendly
Family owned and operated food truck. Sourced from local farmers.  
Breakfast: El Burro (Breakfast Burrito), Briskets and Gravy and Eau Boy (Skillet)
Lunch/Dinner: Tempura Pickled Vegetable, Crudite (Fresh Veggies), WI Curds, Farmburger, Frybread Taco, Farmer's Market Salad, Pickled Beet Areyes
Beverages: Water, La Croix (Sparkling Water), Gatorade, Bottles of Orange and Apple juice
Local Chippewa Valley Cool Sweet Treats. Ice cream served in a dish, cake cone or waffle cone, Shake/Malt, Root Beer Float, Banana Split, Sundae
Ice Cream Flavors: Raspberry Cheesecake, Mackinac Island Fudge, Cookies and Cream, Cottom Candy, Chocolate, Vanilla, Mint Chocolate Chip and Mocha Mud Pie
Artisan Popcorn: White Cheddar, Classic Cheddar, Classic Carmel, Olson's Blend
Drinks: Root Beer, Water
Fresh Fruit and All Natural Ice Cream Popsicles
SUPER HEADY GRILLED CHEESE
Vegetarian friendly
Gourmet Grilled Cheese
THE HUBB
Vegetarian friendly
Lunch/Dinner: Gyros (Lam, Chicken or Vegetarian), Philly (Chicken, Corn Beef or Vegetarian), Quesadilla (Cheese, Chicken, Corn Beef or Vegetarian), Chicken Tenders w/Fries, Chicken Salad Wrap
Beverages: Bubbl'r, Water
Strawberry, Popping Boba Lemonade, Boba Tea served over Ice or Blended (Taro, Coconut, Thai, Brown Sugar, Green Tea, Black Tea)
Vegetarian & Vegan friendly (Gluten Free Available)
Wonton Tacos, Vietnamese Spring Rolls, Pork Potstickers and Vegan Potstickers
*All menus and vendors subject to change.
—
Campground Food/Bev Rules:
You are welcome to bring any food and drink (including alcohol) into the campground area. Grills are allowed but now provided.
Ice and Firewood will be available for purchase at the South side of the Shower Building. Campfires are allowed but must be enclosed. Fire rings are available in VERY limited quantities throughout the campground and are NOT guaranteed for any specific site or area. We do NOT sell fire rings or take reservations/requests so suggest you bring your own if you would like to guarantee a campfire at your site.
Festival Bowl Food/Bev Rules: 
Free Filtered Water Stations: Don't forget to bring a reusable water bottle to Blue Ox. We have free filtered water stations available at multiple location within the festival bowl.
*Yes: Empty bottles, empty hydration packs and factory sealed water bottled allowed in the festival bowl.
*No: Carry-in food and beverage/alcohol allowed in the festival bowl beyond water.