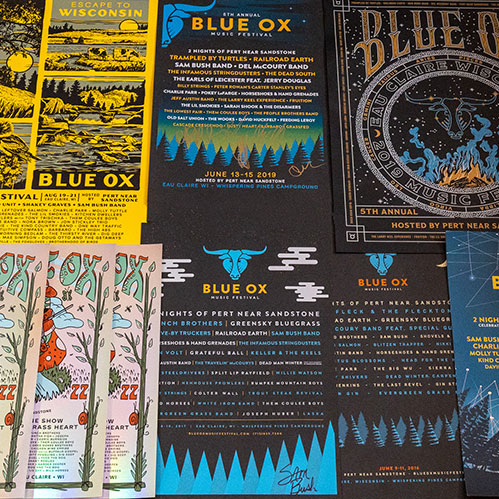 Guess our 2023 Lineup!
Contest is Closed. 
The Blue Ox Music Festival 2023 lineup will be announced Wednesday December 7th at 10AM CST but before that happens we're giving you a chance to win a past Blue Ox Lineup poster of your choice.
Winner chooses from one of the following Posters:
2016 Promotional Poster (screen print)
2017 Promotional Poster (screen print) signed by Sam Bush
2019 Promotional Poster (screen print) signed by the Infamous Stringdusters
2019 Official Merch Poster
2020 Live from the Pines (online sale) Poster
2021 Official Merch Poster
2022 Official Merch Poster
Winner: Congratulations Patrick E. – the winner of our '2023 Guess the Lineup' Contest. Please make sure to check your email for directions on how to claim your prize.
---
Fill out the form below to let us know 10 bands that you think will be at Blue Ox 2023 happening June 22nd – 24th.
Please make sure to list bands rather than artists unless said artist is known largely as a solo artist.
The individual with the highest number of correct responses wins. In the event of a tie, then we will randomly choose a winner.
*Contest will close Tuesday, December 6th at 5pm CST.
*Duplicate entries will be deleted at random so please enter only once.
*Incorrect spelling may make it difficult to confirm correct answers so please be careful and good luck!
**Hint: Make sure one guess is Pert Near Sandstone 😉
—
The Pert Near Sandstone First Avenue Ticket Giveaway is CLOSED. We have randomly chosen 2 winners and they have been notified via email.
Each winner has won (2) tickets to see Pert Near Sandstone, Horseshoes & Hand Grenades with the Foxgloves at First Ave on Friday December 2nd. Please check your email with details on how to redeem your price.