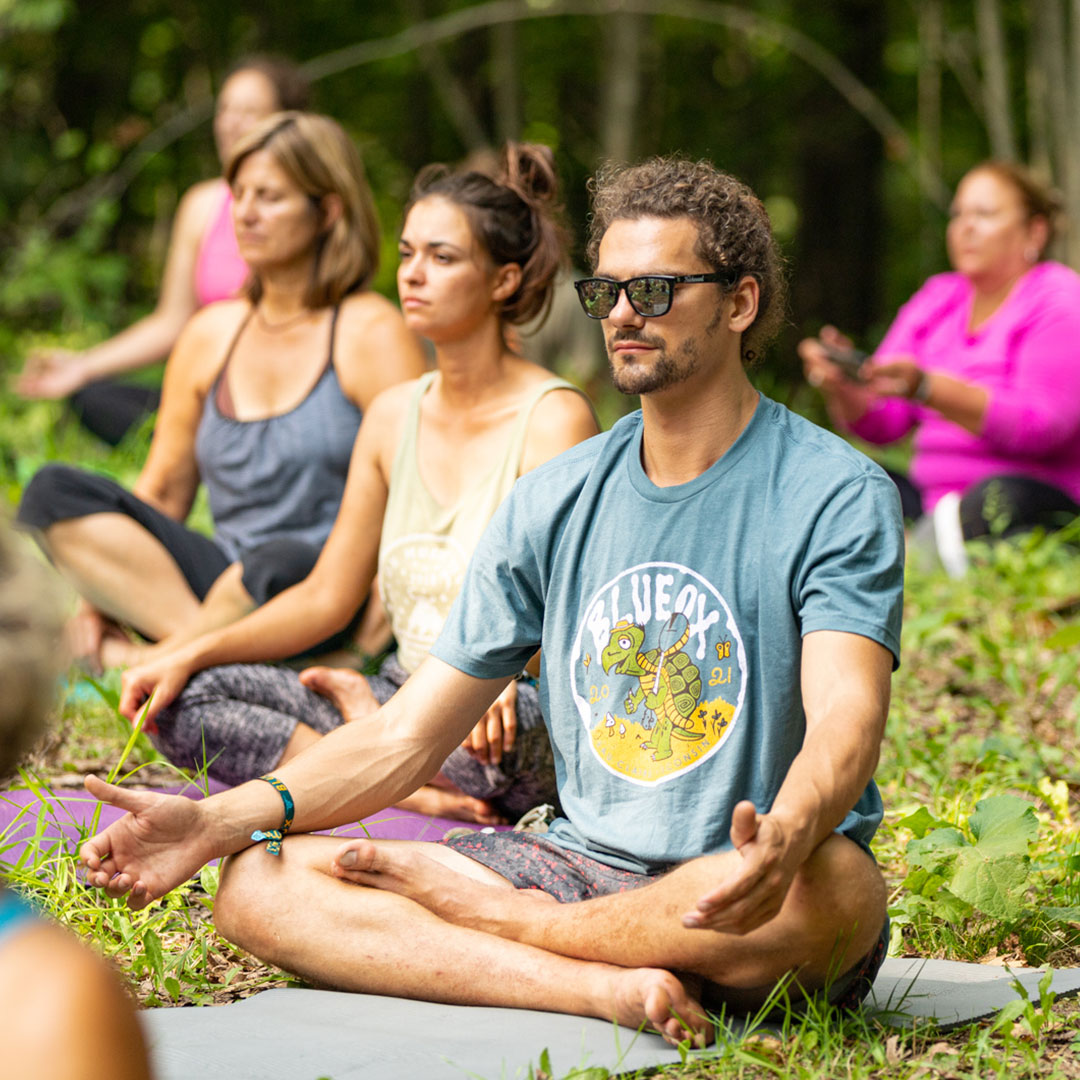 The Soul Sanctuary
For Mind, Body and Soul
Presented by Meggan Emily and Mike McGuigan 
The Soul Sanctuary is a wellness tent where you can find balance, recharge, restore and connect consciously with the festival community. Highly vibrational offerings that compliment festival culture will include yoga, sound healing, meditation, breathwork, reiki and more! Bring your own yoga mats, blankets and other needed props for comfort. All are welcome! (Schedule and full class description below) *Schedule subject to change
Open Friday & Saturday: 9am-5pm
Location:  In the campground, just past Quiet Unreserved GA 
Friday, June 24
9:00am – Yoga & Sound Healing with Meggan Emily,  Mike McGuigan & Maja Videnovic
10:30am – Gentle Movement & Meditation with Maja Videnovic
12:00pm – Venus Gong Mediation with Karen Tlusty-Rissman & John Rissman
1:30pm – Hula Hooping with Mariah Ziolkowski
3:00pm – Healthy Self/Heal Thyself with Michelle Gantner of 13 Moons Apothecary
Saturday, June 25
9:00am – Yoga & Sound Healing with Meggan Emily, Mike McGuigan & Maja Videnovic
10:30am  – Mantra, Music & Meditation with Meggan Emily & Friends
12:00pm – Astral Insight with Jillian Bieritz of Aquarian Moon Astrology
1:30pm –  Group Activation with Michelle Anthony 
3:00pm – Crystal Bowl Sound Healing & Group Reiki with Mike McGuigan & Mariah Ziolkowski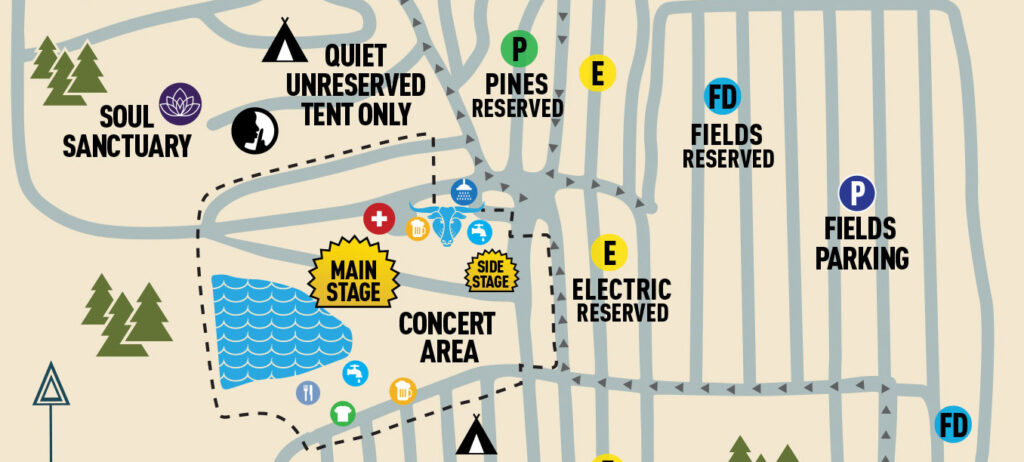 ---
Friday June 24th
9:00AM – Yoga & Sound Healing
Meggan, Mike & Maja return to Blue Ox, offering morning yoga, sound healing and meditation. Students will move and breath through an all levels practice, designed to purify and awaken the body, mind and soul for a day of festival! This class is a Blue Ox tradition and will inspire students to connect to self and community through a healing practice. Please bring your own yoga mat and props. (1 hour long class)
10:30AM – Gentle Movement & Mediation with Maja Videnovic
Maja presents a healing hour of gentle movement & meditation to center & unwind. Compliments of Reiki & Music. Therapy will complete our session during extended, sacred rest. This class is the perfect way to begin your morning thoughtfully, slowly and peacefully.
Maja is an experienced Holistic practitioner on a constant continuum of learning and advancing her practice. Yoga has opened her heart & mind, stabilized her relationship with commitment to self actualization, and ignited her passion for celebrating presence. As she continues her lifelong journey of her human experience, she is excited to share what she learns with her students. Maja is a licensed massage therapist, CranioSacral/Somato Emotional Release Therapist & a Reiki Master. She incorporates breath work, meditation, patience & love into every exchange.
12:00PM – Venus Gong Mediation with Karen Tlusty-Rissman
Join Karen Tlusty-Rissman for an hour of exquisite vibrations! Sounds of the Venus gong, Native American style flute, Tibetan bowls and other instruments create a heightened meditation space that supports us in directly connecting to our deepest source of wisdom. Current astrological influences will be discussed, helping us align with celestial energies that assist our evolutionary growth and empower our intentions. Please bring a yoga mat, blanket, pillow or anything else you may need to lie still on the floor, as lying down is the most effective position to work with the energy of the gong.
Karen Tlusty-Rissman is a musician, astrologer, meditation facilitator and ceremonialist. She plays the Venus gong, Native American flute, concert flute, bass guitar, Tibetan singing bowls and more. She leads a variety of classes that involve sound, shamanism, visual art, aromatherapy, crystals and guided meditation.
1:30PM – Hula Hoop Skills Workshop with Mariah Ziolkowski
This hula hoop workshop is designed for all ages and all skill levels. Let's learn together how to feel the music and let the hula hoop flow with us. We will learn the basics, tricks and how to connect it all into a flowing dance.
Mariah has been hula hoop dancing for 8 years. She enjoys LED hula hoops and has a passion for fire hoops. She also enjoys aerial yoga/silks, roller skating, and rock climbing. Anything to get the body moving and express her energy.
*Limited hula hoops available for use; please bring your own if you have them.
3:00PM – Healthy Self/Heal Thy Self w/Michele Gantner of 13 Moons Apothecary
In this class we will look at our whole selves. We will discuss herbalism as a way of everyday ritual magical maintenance for ourselves, and our families. The concept: "You are your own healer!" will allow for each of us to step further into knowing ourselves better, and expand our ways to synchronize with nature to have an overall healthier way of being. This class will introduce you to an array of 13 Moons Apothecary products to support you exactly where you are on your personal journey. Through this journey together we will learn about ourselves, and each other with the offering for greater connection.
Michelle Gantner loves this planet and has taken a vow to make the world a better and healthier place for every animate or inanimate object. She prays and meditates daily to understand what the plants are saying to her. She envisions she is like the plants. Roots going deep into the ground, stem drinking in the sun and water, and the flowers opening and blooming for all to see. In 1998 she began working with essential oils. From her humble start with essential oils she has learned how to make around 100 products for her home, and her body temple. She wildcrafts or grows all the plant medicine she makes. Michelle is an energetic plant ambassador. She has termed a word called Slow Herbalism to convey the importance of getting to know the spirit of a plant by using only one plant at a time. During her years of work with plant medicine she has come to understand that when we take plant medicine inside of ourselves we begin to shift into a deeper connection with everything around us. Michelle has facilitated Women's mystery circles, been the celebrant of numerous occasions, and supports community endeavors through her dedication to brotherhood and sisterhood. Michelle holds a Master's Degree in Social Work from the University of Louisville and is currently pursuing her clinical license to perform therapy for individuals and groups. When she is not harvesting medicine or in her apothecary, she can be found loving her family. She also devotes time to self-care, friendships, purification, rituals, circling, embodied movement, meditation, prayer, and studying. Michelle's biggest mission is to help people expand and integrate that expansion into their daily lives.
Saturday, June 25th
9:00AM – Yoga & Sound Healing
Meggan, Mike & Maja return to Blue Ox, offering morning yoga, sound healing and meditation. Students will move and breath through an all levels practice, designed to purify and awaken the body, mind and soul for a day of festival! This class is a Blue Ox tradition and will inspire students to connect to self and community through a healing practice. Please bring your own yoga mat and props. (1 hour long class)
10:30AM – Mantra, Music & Meditation w/Meggan Emily & Friends
Mantra is a sacred gateway to meditation and meditation is a pathway to the Sacred Self. The BLOX community knows well that music heals and by joining our voices together in a circle, we unify and co-create an experience of expression and celebration! In this session, Meggan will offer a selection of traditional yogic, Sanskrit, Hindu and Buddhist chants, as well as some original work. You are invited to join in on singing or to simply meditate on the sounds. All are welcome! Arrive ready to sit comfortably.
Through teaching yoga and sharing music, I hope to inspire your creative expression of embodiment. I am dedicated to offering authentic, student centered yoga that is both current and deeply rooted in its' Indian origins. I lead students in their practice, by providing a safe, welcoming and challenging environment in which to breathe and move. I have been a student of yoga for 25 years and a teacher for 12. As a musician, I was introduced to drum circles while following the Grateful Dead beginning at the age of 16. Now, 30 years later, my love of all things music has evolved into playing hand drums, various percussion instruments, the ukulele, shruti box and beginning harmonium. In recent years, I have written several original songs in the genres of kirtan, devotional singing, traditional mantra, folk and acoustic originals. Music and movement are my medicine!. I am a Mother, a yogi, a vegan, a writer, an earth steward and a wanderlust.
12:00PM – Summer Solstice/Elemental Embodiment with Jillian Bieritz of Aquarian Moon Astrology
Gain wisdom into the current Astrological influences of the season as we celebrate the Summer Solstice! Join Jillian in this interactive experience and take a deep dive into the 4 foundational Elements of Water, Air, Earth and Fire from an astrological point of view. We will connect mind, body and spirit and journey with each sacred Element through meditation, sound and movement.
Jillian Bieritz is a yoga guide, energy worker, and professional astrologer. She has received her 200-HR Hatha Yoga Certification, Reiki Master Teacher Certification and is a graduate of Debra Silverman's Applied Astrology School. She is an advocate for creativity, self growth, inclusivity and healing on a deep level by connecting with the rhythms of nature. Jillian's deep love and embodiment of astrology, organic movement, and the studies of Earth Medicine inspire her daily life along with her offerings. She is dedicated to teaching from the heart, while bringing a soulful connection to mind, body and spirit. She is passionate about holding a sacred container for others to (re)connect with themselves in an authentic and expansive way. It is her greatest joy to explore and play in nature as well as experience heartfelt connections with others.
1:30PM – Group Activation with Michelle Anthony
Michelle combines a variety of techniques in her signature embodiment modality to take you on a journey into your subtle body and meet the gifts that await you there. The gift of peace. The gift of clarity. The gift of intention. The gift of momentum. The gift of your sacred power. This activation involves breathwork, movement, energy work, hypnosis, and akashic wisdom.
Michelle Anthony is a spiritual integration expert dedicated to the physical embodiment of spiritual teachings. She is trained in several modalities and has over a decade of experience in the fields of yoga & healing. Her dharma is to help women embrace the messiness of the human experience, integrate their shadows, and activate the spiritual power available to all of us within the human body.
3:00PM – Crystal Bowl Sound Meditation & Reiki Healing with Mike McGuigan & Mariah Tuma
Join us in the Soul Sanctuary for a unique experience of Sound Vibration Immersion & Group Reiki Healing. In this session, Sound Healer, Mike McGuigan will use the powerful vibrations from Crystal Quartz Singing Bowls to help restore, refresh, and rejuvenate your body, mind, and soul. Mariah will simultaneously offer reiki to participants, using the modality as a means to help relax, purify, balance, and restore. Please bring mats, blankets, pillows, and other needed props for comfort.
Mike McGuigan brings over 20 years of experience as a multi-instrumentalist, playing music professionally both as a live performer and as a recording studio artist. Mike and music have been synonymous since a very young age. An outstanding Music Program at Batavia (IL) High School helped earn Mike a music scholarship to Western Illinois University. After college, Mike continued performing professionally in various Jazz Ensembles and Rock & Roll bands in suburban Chicago. In 2015, Mike completed training with the Vibrational Sound Association, and began his career as Sound Therapist and Sound Healer. Mike now owns a Holistic Health Company, Emphasizing on Sound Therapy, Crystal Singing Bowls, and Reiki. Mike is a Reiki Professional, for both humans and animals, and has built and grown a successful practice as Reiki Professional for Vitality Animal Chiropractic Center in Aurora, IL.
Post Published 3/07/2022