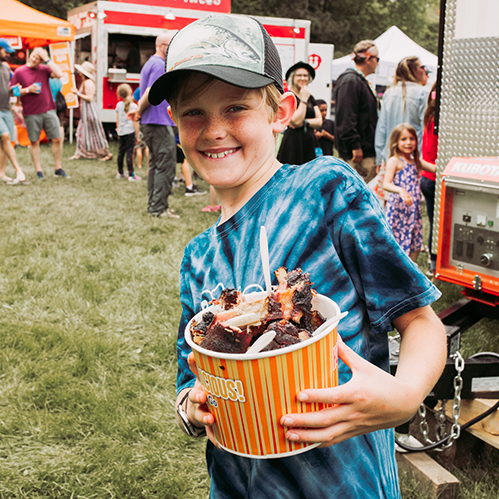 Food Lineup 2021
Beer battered cheese curds, Caribbean Jerk chicken sandwiches, Spring rolls, wonton tacos, mouthwatering mini donuts, ice cream and So. Much. More!
-Vendors also serving delicious non-alcoholic beverages such as a variety of Kombucha on tap, Boba Tea, Cold Brew, and Lemonade.
*Vegetarian and Vegan friendly options available.
*All menus subject to change.
Food Vendor Lineup (menus below)
BBQ Cabin, Caribbean Kitchen, Dairyland Curds, Greek Flame, Holy Donuts, Olson's Ice Cream, Shift Coffee, Superior Culture, Tri Boba Tea, Unami Bites, The Hubb
---
BBQ CABIN 
Pulled Pork Sandwiches, Sloppy John (Pulled Pork with Coleslaw), Sloppy Jenney (Pulled Pork with no bun and Coleslaw & Beans), Smoked Brat, Baby Back Ribs, Jerk Chicken Thighs, Bucket of Ribs, Cowboy Nachos, Cowboy Taco in a Bag.
Sides: Coleslaw, Baked Beans, Chips, Apple Sauce and Cookies.
CARIBBEAN KITCHEN
Vegetarian  friendly
Cubano/Jerk Chicken Sandwiches, Rice Bowls (Choice of: Curry Chicken, Jerk Chicken, Jerk Tofu, Pork, Steak, Mango Chicken), Jamaican Beef Patties, Steak & Cheese Sandwich, Pineapple Coconut Lemonade
DAIRYLAND CURDS 
Vegetarian friendly
Beer Battered Cheese Curds, Beer Battered Mini Dogs, Chicken Fries, Loaded Tots, Pretzel Bites with Nacho Cheese, Mini Tacos. Soda and Bottled Water.
GREEK FLAME
Vegetarian & Vegan friendly
Lamb or Chicken Gyros, Greek Salad, Greek Sampler Platter, Philly Steak Fries, Veggie Artichoke Platter and Gyro Fries. Lemonade, Soda, and Bottled Water.
HOLY DONUTS
Vegetarian friendly
A variety of mouthwatering mini donut flavors: Cinna-Yum, Glaze N Sprinkles, Butterfinger Bomb, The Cloud, Key Lime Pie, Lemon Sunshine, Orange Dream, Raspberry Lemonade.
THE HUBB 
Vegetarian friendly
Tacos (Ahi Tuna or Pineapple Pork), Corned Beef Philly, Vegetarian Philly, Quesadillas (choice of cheese, pork or vegetarian), Tenders, Pub fries, and Curds. Cold Smoked Salmon Dip and Pineapple Salsa with Chips. Bottled water.
OLSON'S ICE CREAM
Local Chippewa Valley Cool Sweet Treats. Ice cream served in a cup, cake cone or waffle cone, Shake/Malt, Root beer Float, Ice Cream Sandwiches, Waffle with syrup and butter, Waffles with Ice Cream Sundae Toppings. Root beer and bottled water.
Popcorn: Carmel, Carmel Pecan, Carmel Cashew, Chocolate Drizzle, Cheddar, White Cheddar, Olson's Mix, Birthday Cake, Dill Pickle, Jalapeno…
SHIFT COFFEE
Local Eau Claire Coffee Shop offering Espresso, Batch Coffee, Cold Brew, Lattes, Cold Brew Latte, Herbal Iced Tea & Liége Waffles. Bottled water.
SUPERIOR CULTURE 
Vegetarian & Vegan friendly
Deli Sandwiches, Potato Salad, Beet Salad,  Egg Salad, Deli Salads, Soup. Snacks include popcorn, chips, pretzels and Jerky.  A variety of Non-alcoholic Kombucha on tap. Other fermented beverages including Kefir, Shrubs, Kvass and more.
TRI BOBA TEA
Boba Tea served over Ice or Blended (Taro, Coconut, Macha, Milk Tea, Chai.) Ice Tea, Hote/Iced Chai, Bottled Water and Soda.
UNAMI BITES
Vegetarian & Vegan friendly (Gluten Free Available)
Wonton Tacos: Braised Pork, Chicken and Chorizo, Mediterranean Vegetarian and Philly Cheesesteak options.
Pork & Ginger Potstickers served over rice, Flash Fried Brussel Sprouts, Coconut Sweet Rice Bowl served with Asian Braised Pork and a Fried Egg), Vietnamese Spring Rolls (Vegan, Gluten Free fresh Rice paper rolls).
*All menus subject to change.