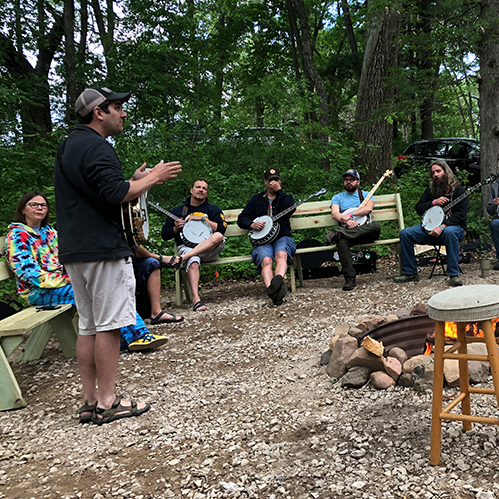 Music Workshops
Blue Ox is pleased to present its instrument workshops. Learn more about Bluegrass, Americana, Roots and traditional string genres of music from excellent instructors.
*Workshops will provide a beginner level instruction. Patrons are encouraged to bring their own instrument and chair.
Location: All workshops will take place at the Potluck Pickin' Place, weather dependent)
***Friday Workshops 
10:00AM Anthony Ihrig (The High 48s) – Bluegrass Banjo
Anthony is a musician, songwriter and instructor based in Minneapolis. As banjo player with The High 48s bluegrass band and composer of original progressive acoustic music, he teaches a variety of 3-finger banjo picking styles. He has taught group workshops and clinics at festivals across the country and has been an instructor at the Grass Seeds Music Academy (youth bluegrass camp) for the last nine years. He runs a private teaching studio in south Minneapolis where he provides lessons and group workshops in-person and online.
11:00AM Eric Christopher (The High 48s) – Fiddle
Eric was introduced to country fiddling from his grandfather at an early age. He has recorded and toured with dozens of bands in several genres including rock and alternative country. For nearly two decades Eric has focused exclusively on playing traditional bluegrass. After a stint touring with the Grammy-nominated bluegrass singer James King, he co-founded The High 48's. Eric operates a teaching studio in Saint Paul and gives bluegrass fiddle workshops at festivals and jam camps around the country.
***Saturday Workshops 
9:00AM Nora Brown – Clawhammer Banjo 
Mentored in old time music by many of the most regarded modern practitioners, Nora has quickly become an established artist herself. Despite her age, she has taught both beginning and advanced banjo workshops at prestigious banjo camps, has won numerous ribbons at instrumental competitions, and above all else carries a respect for the traditional music with a bright new voice. She continues to travel and learn from old masters, performing and now also recording her renditions of this cherished musical legacy.
**Giveaway: One child (13 or younger) who attends the Nora Brown workshop will be entered into a drawing for a chance to win a Beginner Deering Banjo!
10:00AM Clint Birtzer (The High 48s) – Guitar 
Clint won his first flatpicking guitar championship at the age of thirteen and is currently a three-time Minnesota State Flatpicking Guitar Champion. He is a founding member of the Sawtooth Brothers, a progressive bluegrass band known well around the Twin Cities acoustic music scene. The Society for the Preservation of Bluegrass Music in America (SPBGMA) named him the Midwest Guitar Performer of the Year for 2015. He was also nominated for the national award that same year. Clint's playing draws on classic country, classic rock, bluegrass, and blues influences from his eclectic musical upbringing.
11:00AM David Robinson (The High 48s) – Mandolin 
Midwest born and bred, David got his start performing with his family regionally in Wisconsin as the folk band "Yellow House Road." He would spend summers attending Bill Monroe's Historic Bean Blossom Fest where he would cut his teeth on traditional bluegrass, learning how to play from the greats. Since then, David has widened his scope, becoming proficient on numerous instruments and in 2012 joined the Minnesota Music Hall of Fame bluegrass group Monroe Crossing. For many years he toured full time with Monroe Crossing, performing worldwide from Europe to South Korea, and playing venues such as IBMA World of Bluegrass and multiple appearances at Carnegie Hall. David currently performs with various groups such as The Robinson Roundup, York and Robinson, The High 48s and Back Up & Push.