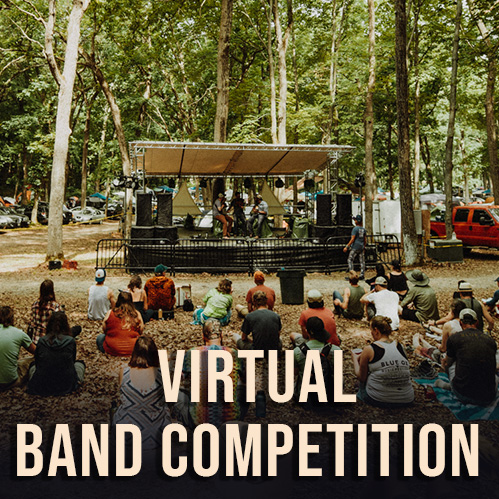 Congrats to The Foxgloves!
Congratulations to The Foxgloves! The Virtual band Competition winning artist.
You can catch The Foxgloves at Blue Ox 2021 on the Backwoods Stage on Saturday, August 21st from 5:30-6:30PM.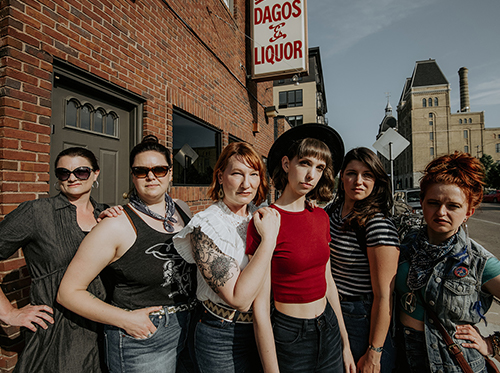 The Foxgloves from Minneapolis, MN are a six-piece all-female band with songs you won't be able to stop humming. Their engaging presence, rich instrumentation, compelling storytelling songwriting, four-part harmonies, and creatively reimagined covers render them a force to be reckoned with. This powerful band is making moves you'll want to witness. A little bit of country, a little bit of folk, a little bit of classical, and a whole lot of heart — your toes will tap of their own accord.
 *We had a strong group of submissions from across the Upper Midwest and beyond and enjoyed watching all of the videos. All entries will be considered as a performing artist for the Blue ox 2022 festival. Thank you to everyone who voted.
---
Virtual Band Competition Artists:
(Listed in alphabetical order). Competition voting closed on May 28th at 11:59 PM CDT.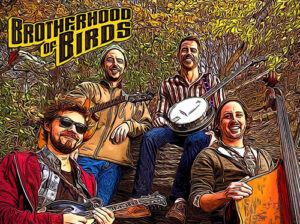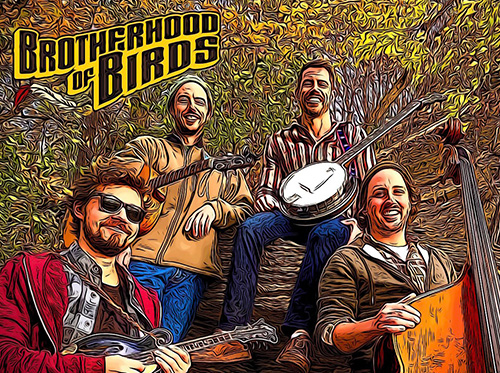 Brotherhood of Birds – Minneapolis, MN
Brotherhood of Birds (BoB) is a Twin Cities-based, progressive acoustic string band whose original compositions bring together traditional and modern styles. BoB lineup consists of brothers Willie (Guitar) & Cole (Banjo) Christianson, Gavin Haskin (Mandolin), and Matt Blake (Bass). The Christianson brothers have shared a passion for making music together since they were teenagers, while Haskin, and Blake have spent the last half decade before the pandemic touring as Twin Cities grass band Ginstrings.  After releasing their debut EP, "Caged Vol. 1", in January 2021, "Caged Vol. 2" is out as of 5/28/2021!
---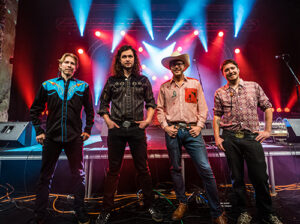 Buffalo Galaxy – Minneapolis, MN
Dust from the years of performing with many groups and musical styles has coalesced to form Buffalo Galaxy. Each member brings with them a tradition of Bluegrass and American music as their bedrock, together creating moments of energy and intensity that can only be generated by light-speed bluegrass, while also exploring the deep-space between notes and emotion. The gravity of their songwriting pulls at our humanity, while time becomes relative when improvisations and jams atomize, allowing the listener to float weightless in musical space. Bringing a mass of energy that only time can accumulate, Buffalo Galaxy burns bright in the bluegrass universe!
---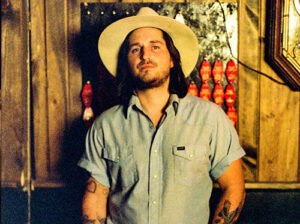 David Quinn likes to write in his old pick-up truck. Most of the songs on his second solo album, the sharp-tongued, open-hearted Letting Go, came to him during a ramble around the Midwestern countryside. "Driving is one of my favorite things to do. There's something special about heading somewhere, it's not necessarily about where you go. It's more about the ride there. There's where stuff comes to me." The ride there is one of the ideas Quinn addresses on this record, offering an idiosyncratic take on country music featuring some of the best players around. For him wandering isn't just a passion but a compulsion. "It's like what they say about sharks: If they're not moving, they die. Deep down I might have a little of that, because I've always gotta be doin' something, always gotta be movin' around."
---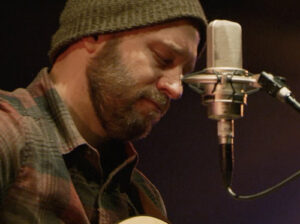 Greg Gilbertson – Chippewa Falls, WI
Greg Gilbertson is an award wining guitarist and songwriter. In 2008 he won third place at the prestigious International Fingerstyle Guitar Championship at the Walnut Valley Festival in Winfield, KS (the world's largest bluegrass event). Locally, he has repeatedly won Best Folk Artist in Volume One's Best Of readers poll and in 2018 his release "Surviving the Echoes" won Best Album. In 2019 he won the songwriting competition at the Great River Folk Festival in La Crosse, WI. He and his band are currently working on a new record, expected to drop in the fall of 2021.
---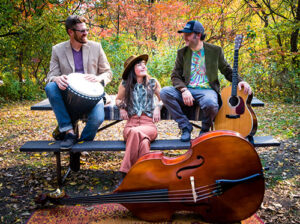 High & Rising – River Falls, WI
Out of Western Wisconsin and the banks of the mighty Mississippi River grew this "Groovy Grass" band of music makers. High & Rising most often plays as a trio, with a unique combination of instruments that bring a fresh groovy sound to the Bluegrass & Folk Americana scene. You'll hear a range of original and jammy cover songs designed to bring good vibes and fun.
---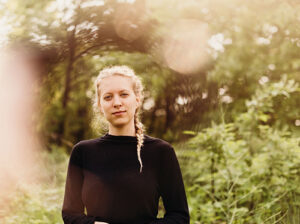 Combining a wintry longing with the warmth of a familiar folktale, Humbird stretches between experimental folk and environmental Americana to embrace the unexpected. This music invites a refreshing dissonance into the house, it leaves breadcrumbs along the path and reflects light back at the stars.
---
Americana singer-songwriter, MoeDeLL loves writing songs– putting compelling lyrics to music that capture a range of emotions. From everyday, life experiences, to that place in a small town, and the heartfelt anxiety and awkwardness that we feel while in love. MoeDeLL's guitar picking style, poetic lyrics, and unique voice are the foundation. His foot stomping, down home melodies, tell tales from light to dark and from silliness to the endearing. Hailing from southern Virginia, MoeDeLL's roots are clearly tied to the bluesy rolling rhythms of his native culture. MoeDeLL has made his new home in the Upper Midwest in the outskirts of the creative and bountiful, music town of Minneapolis. He is one of the top fresh artists to be watched, in the clubs and music scene in the Twin Cities – especially as live music performance gets its mojo back, and fans return to their favorite venues again. For the 2019/2020 Midwest Country Music Association, MoeDeLL was nominated for 'Songwriter of the Year' and 'Americana Artist of the Year'.
---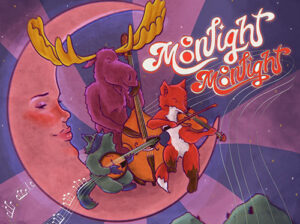 Moonlight Moonlight – Bozeman, MT
Moonlight Moonlight is a Bluegrass/Jamgrass outfit of Bozeman, Montana consisting of Hans Swenson (fiddle/mandolin/vocals), Zander Chovanes (Guitar/Lead Vocals), and Isaac Winemiller (Double bass/Vocals). The trio bring youthful, energetic, and playful elements that combine traditional bluegrass with modern jam band influence to create their own unique sound. Their performances are marked with lots of movement and spontaneous energy.
---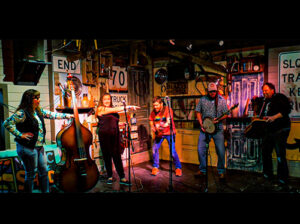 Pants 1/2 Off – Shell Lake, WI
Pants ½ Off is neither half full or half empty. It also is not your discounted jeans but a nice pair of slacks you clumsily slip on as you wake up to the sun just peeking over the Blue Hills in Rusk County WI. The band consists of a crop of familiar solo musicians and songwriters who call Northwestern Wisconsin home. This pizza train takes us from Eau Claire up Highway 53 over to Shell Lake, through Spooner, and finally to Trego where we stop and unload for a day of music. Spanning some traditional Bluegrass, add in some jamgrass, and of course modern folk/rock the sound is reminiscent of a rowdy Union Station with hints of Ryan Adams, John Prine, and Greensky Bluegrass. Consisting of the primary stringed instruments; guitar, banjo, standup bass, fiddle, and square neck dobro, the band also incorporates a psychedelic backdrop with the haunting echo of a lap steel or a well-articulated delay on the fiddle to edge out an extended jam.
---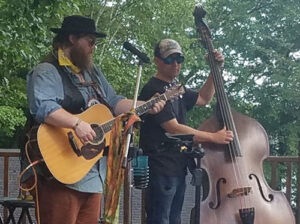 Scott Kirby has been cultivating his own brand of Americana "blue country-folk grass" for over a decade. This particular blend of styles, allows Kirby to connect with an array of audiences. Kirby's musical inspirations are like patches he prominently displays- from the straightforward sensibilities of Johnny Cash, Willie Nelson & B.B. King- to the musical explorations of the Grateful Dead, The Allman Brothers, and Bob Dylan. Kirby's got a soulful voice that delivers each story with sparkling authenticity and is truly at home whenever he's playing his music. Scott Kirby plays with a host of musicians that also maintain their own endeavors- This particular occasion, we experience the music that Kirby And Justin Zopel create as a duo. Zopel is Brandishing a 5 string fiddle and 5 string stick bass- while Kirby sends his Taylor T5 hybrid through an effects chain that includes a live looper.
---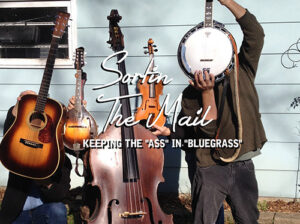 Lonesome Willie Jones (Mandolin)…is the mastermind behind this bluegrass operation. Besides having a killer mandolin chop, Willie writes most of the band's songs and has an incredible stage presence and singing voice. Bobby Batyko (Guitar)…is the voice of reason in the band. His style of guitar picking is well-planned and tasteful. Bobby's singing and playing reminds the audience that even though the band plays some tunes not associated with country music, these guys play bluegrass, plain and simple. Brad Astor (Bass)…is the rock behind the bass, and by far the most educated member of Sortin' the Mail. He keeps the band grooving in time but is never afraid to belt out one of his originals or go off on a funky banjo/bass jam. Rin Q. Ribble (Fiddle)…brings a music degree in jazz violin from UW Stevens Point. She holds her own with the boys and shows us how things should be done. With dazzling fiddle chops and charisma to burn, Rin is an electrifying presence on stage. Matt Amati (Banjo)…is our newest member. He supplies banjo noises where necessary. Matt's table manners have improved so much, he's even allowed to eat with the other band members now.
---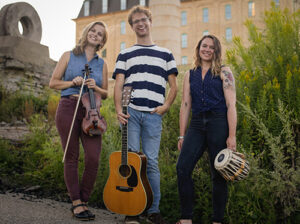 Sprig of That – Minneapolis, MN
Serendipity, a mutual friend, and a shared love of string band music brought Sprig of That together in Minneapolis in January of 2018. Since then, the trio has made a name for themselves in Minneapolis' storied music scene and beyond, performing lush original works and fresh arrangements of folk favorites that have delighted audiences from Western Minnesota to New York City. Hailing from different musical upbringings, the trio distills a wide range of musical interests into a cohesive and joyful sound that is constantly evolving. Influenced by groundbreaking works like Bela Fleck's 2009 album The Melody of Rhythm (featuring percussionist Zakir Hussain and bassist Edgar Meyer), the group's sound sits somewhere between Northern European fiddle styles, modern American string music, and the "indie classical" contemporary classical movement.
---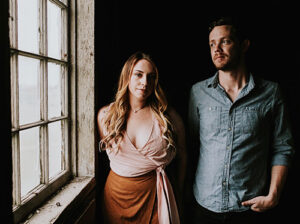 The Bashful Youngens – Champaign, IL
The Bashful Youngens, an Americana duo composed of Carrie Chandler and Aaron Short, hail from Champaign, IL and have been spreading their tunes across the Midwest and more since 2015. As long-time friends, Carrie and Aaron's effortless roots-inspired harmonies flow seamlessly with their captivating, collective songwriting to create one voice that resonates with their distinctive Americana sound. Releasing their last EP,"Inflorescent" in 2017, The Bashful Youngens have been included on line-ups at festivals such as Summer Camp Music Festival, Shoe Fest and Pygmalion or as support for national acts such as Lydia Loveless, Parker Millsap, Paul Thorn, The Shook Twins, Jana Kramer and Old Salt Union. Looking forward to hitting the ground running out of a year that has challenged artists in unprecedented ways, their long-awaited single, "When I'm Dead and Gone" releases in August of 2021. The duo's first release in 4 years debuts a shift in their sound to one that reflects their evolution as artists and collaborators.
---
The Foxgloves – Minneapolis, MN
The Foxgloves are a six-piece all-female band with songs you won't be able to stop humming. Their engaging presence, rich instrumentation, compelling storytelling songwriting, four-part harmonies, and creatively reimagined covers render them a force to be reckoned with. This powerful band is making moves you'll want to witness. A little bit of country, a little bit of folk, a little bit of classical, and a whole lot of heart — your toes will tap of their own accord.
---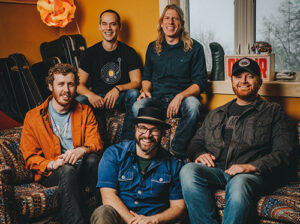 The Honeygoats formed in September 2016 out of 5 guys' mutual love of a diverse range of music. From Bill Monroe to Punch Brothers, Waylon Jennings to James Brown, Led Zeppelin to A Tribe Called Quest. There is some inspiring aspect of each of these radically different styles of music. Be it carefully crafted songwriting, blinding solos, belting vocals, an infectious groove, or raw energy; The Honeygoats draw from a wide pallet of sounds and styles to provide a memorable show for every audience they play to.
---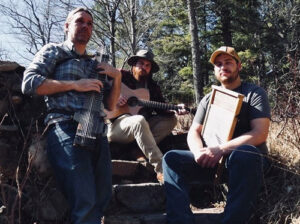 The Old Pine Road Band – Rhinelander, WI
The Old Pine Road Band was born in the Northwoods of Wisconsin nearly a decade ago and has grown to become a staple in the Midwest music scene. Featuring David Walters on guitar and vocals, Thor Gunderson on washboard and drums, and Chris Skinner on the bass and chapman Stick.