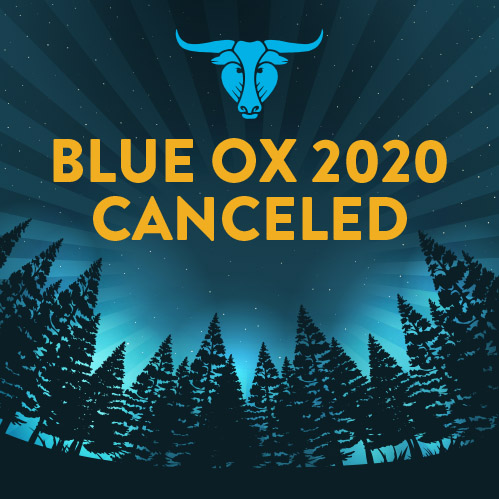 2020 Festival Canceled – How You Can Help
It is with saddened hearts that we must announce our rescheduled August dates will be
unfeasible. We have been doing everything we could to ensure the best chance of having a Blue Ox Music Festival this year. Unfortunately, this will not be possible. A gathering of our festival's size would not be safe nor allowed under Eau Claire City-County Health guidelines.
All ticket buyers should have already received an e-mail with instructions for receiving
refunds.
---
If no action is taken your tickets and campsites will be good for our 2021 festival
dates, currently planned for June 10-12, 2021.
THE DEADLINE FOR REFUND REQUESTS IS JULY 22, 2020
If you have questions contact our office at 715-602-4440 or email us – info@blueoxfest.com

---
The situation that we have all found ourselves in has forced us to evaluate how to balance
keeping the festival on good financial footing and doing right by all of you who have supported
us over the last five years. We are a family business with a small team of dedicated employees
that has fixed costs throughout the year. While some festivals have "postponed" their festival
to the following year, without refunds, that idea just did not sit right with us. We understand
how they came to this decision since the economics of NOT having an event for 24 months is a
quite daunting. Our festival's situation is no different. Donating to the festival is a great way to
ensure that we can meet our obligations as we look forward to Blue Ox 2021.
---
Contributions:
Venmo: @Blueoxfest (Mark Bischel – Festival Organizer)
Paypal: Click here to donate through PayPal
GoFundMe: Click here to donate through GoFundMe
#saveourstages
---
We will greatly miss seeing our Blue Ox Family this year. This festival means as much to us as it
does to all of you. The friendships and camaraderie surrounding this community over the last 5 years has been truly amazing. There will be brighter days, when we will all be able to come together and party in the Pines. Until then focus on your local community, treat each other kindly, and take care of yourselves. We look forward to seeing you all again!
Going forward into 2020 Blue Ox will be looking into several possibilities to provide our local music community entertainment options. This may include limited capacity campouts, virtual
events, or a hybrid of the two. These decisions will be made with the guidance of public health
officials. In addition, we will be airing past Blue Ox sets on Thursdays on YouTube and Facebook. Look for announcements, follow us on social media and YouTube, and keep in touch!
Take care,
From all of us at Blue Ox Music Festival
---
You can still view both days of our Virtual Festival on YouTube through the following links.
Friday: https://youtu.be/dMsOnWCTM-o
Saturday: https://youtu.be/2TyoW1Z3IWo
---
*2021 Lineup is not confirmed and is subject to change from 2020 festival lineup.
**Reserved campsite renewals will be sent out later in the year, but if you would like to keep your site from 2020 you are encouraged to let your tickets roll-over to 2021.