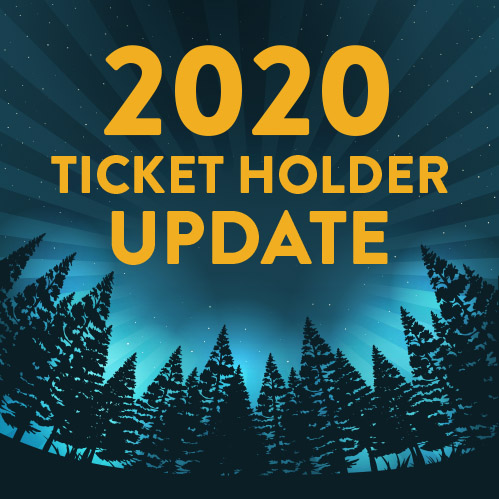 TICKET UPDATE 6/17/2020
ALL TICKETS, INCLUDING RESERVED CAMPSITES AND CAR PASSES PURCHASED FOR THE ORIGINALLY SCHEDULED FESTIVAL DATES OF JUNE 11-13, 2020 WILL AUTOMATICALLY BE GOOD FOR OUR RESCHEDULED DATES OF AUGUST 27-29, 2020. IF YOU ARE UNABLE TO ATTEND THESE AUGUST DATES YOU WILL HAVE THE OPTION OF ROLLING OVER YOUR TICKETS AND CAMPSITES TO OUR 2021 FESTIVAL CURRENTLY PLANNED FOR JUNE 10-12.
WE ALSO REALIZE THAT EVERYONE HAS BEEN AFFECTED VERY DIFFERENTLY BY THE ONGOING PANDEMIC SO WE WILL BE OFFERING REFUNDS TO THOSE WHO REQUEST THEM. IF YOU WOULD LIKE TO DONATE A PORTION OF YOUR ENTIRE ORDER TO THE FESTIVAL THAT WOULD BE GREATLY APPRECIATED IN HELPING US COVER SOME OF OUR FIXED COSTS.
IF YOU ARE A TICKET HOLDER, YOU SHOULD HAVE RECEIVED AN EMAIL WITH INSTRUCTIONS ON HOW TO FOLLOW THROUGH WITH THE DIFFERENT OPTIONS AVAILABLE TO YOU. PLEASE REACH OUT TO OUR OFFICE IF YOU HAVE QUESTIONS OR IF YOU HAVE NOT RECEIVED THIS EMAIL.
715-602-4440 OR INFO@BLUEOXFEST.COM
***DEADLINE FOR REFUND SUBMISSION IS JULY 15, 2020***
WE WILL NOT HAVE A FESTIVAL IF IT IS UNSAFE FOR OUR ATTENDEES, ARTISTS, AND STAFF BECAUSE WE WOULD NOT DO ANYTHING THAT PUTS YOU AT RISK. WE DECIDED TO MOVE OUR FESTIVAL TO LATE SUMMER WITH THE HOPES THAT IT MIGHT BE SAFER TO HAVE A LARGE GATHERING OF OUR SIZE AT BY THEN. WE ARE STILL PLANNING ON MOVING FORWARD WITH OUR RESCHEDULED DATES OF AUGUST 27-29, 2020. WE WANT TO BE READY IF THE OUTLOOK CHANGES FOR THE BETTER.
*WE WILL HAVE AN ANSWER ON OUR AUGUST DATES BY MID-JULY.
*IF OUR AUGUST FESTIVAL IS FORCED TO BE CANCELLED THERE WILL BE A NEW WINDOW FOR REFUND REQUESTS.