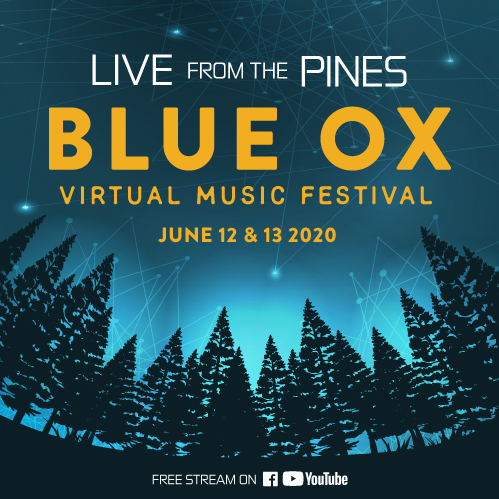 Live from the Pines – Virtual Music Festival
BLUE OX VIRTUAL MUSIC FESTIVAL – JUNE 12TH & 13TH, 2020
CONNECTING THE FESTIVAL COMMUNITY VIRTUALLY WITH A LIVE BROADCAST BLUE OX EXPERIENCE!
Blue Ox Music Festival is proud to present a weekend of live streamed performances from Whispering Pines and artists playing from home. The event coincides and celebrates the release of Pert Near Sandstone's new album, 'Rising Tide', set to debut on June 12th. The event will be available to watch free of charge on YouTube and Facebook.
Pert Near Sandstone will perform two nights onstage, live from the Pines, along with sets from Charlie Parr, Them Coulee Boys, Kind Country, Nickle&Rose, David Huckfelt, and Adam Greuel. In addition Sam Bush, Warren Haynes, Del McCoury, The Travelin' McCourys, Lillie Mae, Molly Tuttle, and Sunny War will be performing sets from their hometowns.
In addition to these performances there will also be a Yoga and Sound Healing brought to you by Meggan Riley and Mike McGuigan and Music Workshops presented by The Henhouse Prowlers.
The Virtual Festival can be viewed in entirety on the official Blue Ox Music Festival YouTube channel with artist sets available on Facebook Live. The event will be streamed in partnership with JamGrass TV, The Current, Bell's Brewery, Northern Sun Productions, Nicolet Law Offices, Nugs.net, and the host, Blue Ox Music Festival.

We are a family owned festival with a small team of dedicated employees. To help cover operational costs in putting this event together we encourage viewers who have the means to make a contribution. This will help assure our festival's financial well being going into the future. Proceeds will also benefit the performing artists and their crew as well as local Eau Claire charities and organizations which include:  The Cleghorn Lion's Club, National T.T.T. Society, CVTC Radiology Department, and Feed My People Food Bank.
THANK YOU FOR YOUR SUPPORT!
Venmo: @BlueOxFest
*Although Blue Ox Music Festival: Live from the Pines will be broadcast from Whispering Pines Campground, there will be no audience on-site for the performance due to health department regulations.
BLUE OX VIRTUAL FESTIVAL SCHEDULE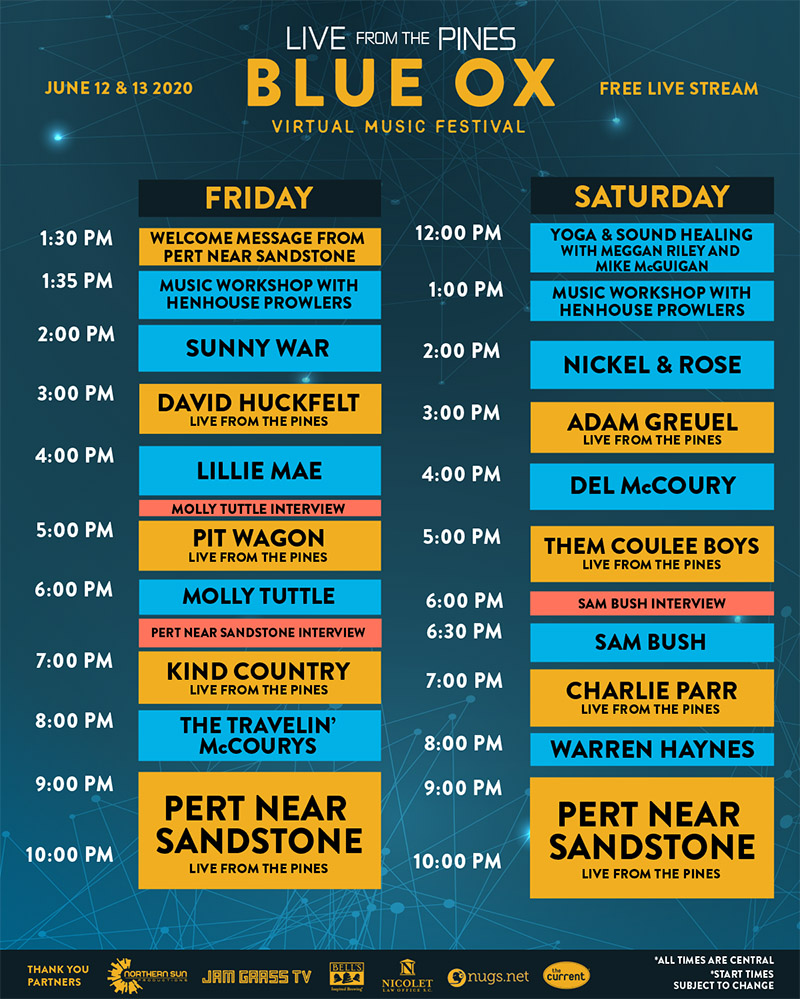 _______
5/21: Blue Ox Music Festival is moving forward with planning the festival dates on August 27-29, 2020- while monitoring the situation with the hope that we are able to have our festival. But until then, you can have a little taste of Blue Ox when we go virtual June 12th & 13th.