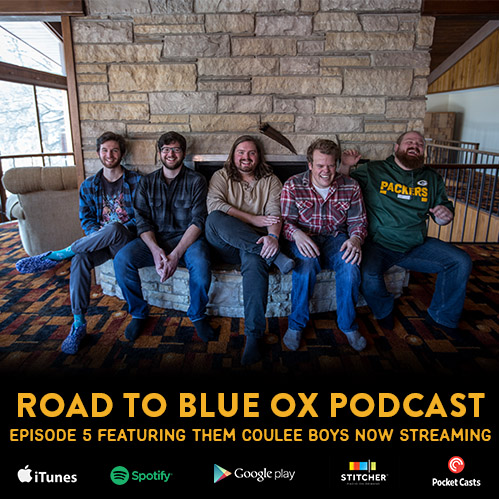 ROAD TO BLUE OX PODCAST – SEASON 1 EPISODE 5
Welcome to our monthly podcast which features music and interviews from Blue Ox artists, as well as multifaceted information about the festival. Get a behind the scenes look at how the festival gets put together, as well as new features and information for the 2019 Blue Ox Music Festival. The podcast is hosted by Nate Sipe and Justin Bruhn of Pert Near Sandstone.

Season 1 Episode 5
The final episode of 'Road to Blue Ox' before the gates open is now available to stream! In this episode, Nate and Justin sit down with Them Coulee Boys' brothers Soren and Jens Staff to talk about their musical evolution. They also give us a hint at what it's like being based in Eau Claire, which has become an artist hub of the region, aside from being the home of Blue Ox.
The festival season is here! Nate and Justin also discuss what to expect as you arrive and what features and amenities to keep in mind throughout the weekend. They introduce the instrument workshop instructors and sample music from other artists who will be performing this year. Excitement is in the air and we can't wait to join you at Whispering Pines Campground for the 5th annual Blue Ox Music Festival.
Written by: Nate Sipe & Justin Bruhn. Produced by: Nate Sipe, Justin Bruhn, and Pert Near Sandstone.
Recorded and edited by: Nate Sipe.
For More information: www.blueoxmusicfestival.com & www.pertnearsandstone.com
**Permission was obtained for all music used in this episode.