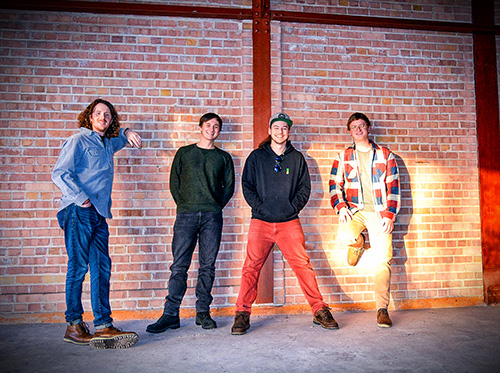 Feed the Dog
Feed the Dog is an eclectic and action-packed, experimental jam-grass act. The Wisconsin based 4-piece masterfully blends soul-pleasing songwriting rich in imagery and storytelling with a genre bending, shake-your-hips, instrumental flair. Their high energy performances are driven by the unique and progressive approach of each player: imaginative melodies with graceful ambiance skillfully crafted on the violin, tireless beats both dynamic and soulful confidently assembled on the drums, driving low end with finesse and intention forged on the bass guitar, and unique approach to playing the acoustic guitar blending nimble finger picking with the strength of blues and rock to evoke an emotional contrast between melancholy and hopeful. The band started in July of 2015 and has been relentless playing festivals, theaters, and clubs alongside regional and national touring acts. Freshmen album "Sheep" out now.  Sophomore album "Tenderloin" recorded at Hyde Street Studios in SF, CA March 2018, released August of 2018.
New album to be released In the near future.
First single out now featuring Chris Pandolfi of The Infamous Stringdusters.
Highlights:
– "Artist of the Year"
– "Album of the Year"
– "Bluegrass/Americana Artist of the Year