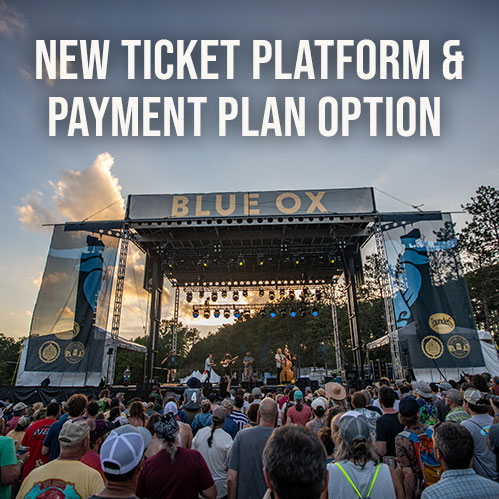 New Ticket Platform & Payment Plan Option
Afton Tickets and PayPal Pay Later —
Elevate Ticketing, which we had been working with since our festival started back in 2015, is merging with AXS so we had to decide if we wanted to merge with them or seek out a new platform. We decided on the latter and are pleased to announce that our new ticketing partner is now Afton Tickets, an independent company out of Portland, Oregon.
We are currently finalizing the finishing touches on this new platform and will make a pre-sale announcement once it's ready to launch. Keep your eyes peeled >>> 2023 Pre-Sale coming this month (October 2022)!
—
Creating an account with Afton Tickets
If you have purchased from Blue Ox / Pines Music Park in the past then your email will already be in the Afton System.
At the login screen, enter the email you usually use for purchasing tickets with Blue Ox and click on the FORGET PASSWORD link.
You can then choose to get a confirmation to reset your password sent to you via SMS text or Email.
Note: You DO NOT need to be logged in prior to adding item(s) to your cart. You can select which items you want to purchase first and then login after.
Be ready for pre-sale when it's announced later this month by either creating a brand new account or resetting your password for your Afton account HERE!
—
New Payment Plan via PayPal!
Our new partner Afton Tickets works with PayPal to offer you an easy way to break your order into either bi-weekly or monthly payments.
At Check Out select INSTALLMENT PLANS – PAYPAL PAY LATER to be directed to PayPal to select which option (below) you'd like to move forward with. After you go through all PayPal steps then you will need to return to the Afton Tickets check out page (your cart) to COMPLETE your transaction.
Option 1: 4 interest free bi-weekly payments.
Option 2: 6 or more monthly payments with interest.
*Important* You will need to have a PayPal Account in order to use the PayPal Payment plan for your order. Create a PayPal Account HERE
(Posted 10/13/2022)