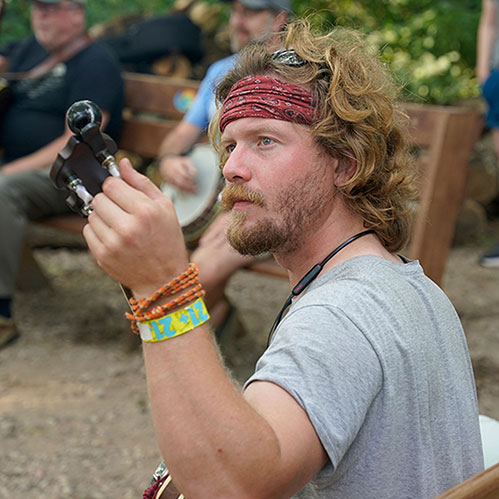 2022 Music Workshops
Blue Ox is pleased to present its instrument workshops. *New* this year is a songwriting workshop on Saturday. Learn more about Bluegrass, Americana, Roots and traditional string genres of music from excellent instructors.
*Workshops will provide a beginner level instruction. Patrons are encouraged to bring their own instrument and chair.
Location: All workshops will take place at the Potluck Pickin' Place, weather dependent
***Friday Workshops 
9:00 AM Banjo: Anthony Ihrig (The High 48s – MN)
As both the banjo player with the award-winning High 48s Bluegrass Band and a composer of original progressive banjo music, Anthony is able to help students navigate the entire spectrum of banjo picking styles— from traditional Scruggs techniques to modern newgrass approaches. Anthony's teaching style is both informative and entertaining with an emphasis on creating an inclusive and positive learning environment for students of all levels.
10:00 AM Mandolin: David Robinson (The High 48s, Roe Family Singers, Reina Del Cid, Steam Machine – MN)
While David is an in-demand multi-instrumentalist, his first stringed instrument was the mandolin and it remains a focus of his musical creativity. His high-energy style fuses the traditional mandolin techniques with modern day music. He has taught private lessons and festival workshops for several years, including Blue Ox Music Festival.
***Saturday Workshops 
9:00 AM Fiddle: Shauncey Ali (MadFiddle – WI)
Shauncey Ali is an award-winning multi-instrumentalist, composer and educator who blazes a creative path in the acoustic music world.  A classically-trained violist turned self-taught fiddler, his unique style has been described as, "precise, thoughtful and unexpected."  Shauncey is the creator/director of MadFiddle, a youth fiddle program that has become an anomaly in music education.  He is excited to share some of that passion at Blue Ox!
10:00 AM Guitar: Adam Kiesling (Corpse Reviver – MN)
Adam's guitar work is influenced by old-time string band music and players such as Norman Blake, Doc Watson, and Mississippi John Hurt. After years playing bass with Pert Near Sandstone, he spends most of his time playing guitar and banjo in a trio that focuses on the songs found within the Anthology of American Folk Music. An occasional guitar and banjo instructor, Adam has taught at music camps and festivals around the country, including the Festival of American Fiddle tunes in Port Townsend, WA.
11:00 AM Songwriting: Soren Staff (Them Coulee Boys – WI) and Siri Undlin (Humbird – MN) 
Join Soren and Siri as they discuss and demonstrate their methods to crafting a song. This round-robin clinic will surely inspire ideas for both burgeoning and seasoned musicians