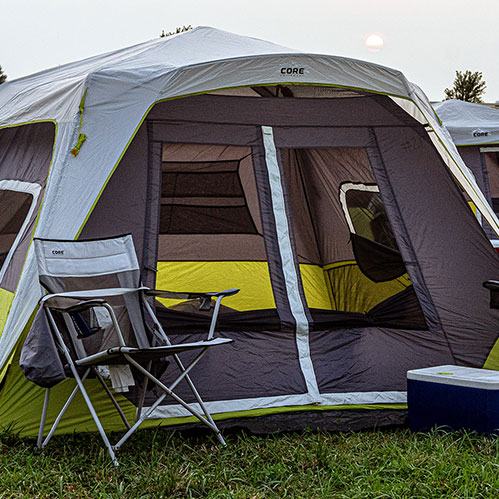 Pre-Set Tent Camping
Limited Packages Now Available!
Do you want to tent camp on-site without worrying about bringing camping gear or set-up/tear down? We have you covered; all you have to do is get here. This service will be provided by our new partner, Backyards & Beyond and will be set up under tree cover just north of the Pot Luck Pickin' place in Eagle Camp (about a 5 minute walk from the festival bowl).
Gimme Shelter and a Bed 2-Person Core Package includes:
A reserved spot in the Backyards & Beyond shaded tent village.
1 CORE brand cabin pre-set tent 11 x 9 ft with 6 ft center height.
1 Queen air bed (pillows and sheets not provided)
2 standard camp chairs
Access to all campground amenities including free showers, refillable water stations and nearby porto-potties.
Access to tent village activities and amenities (listed below)
Tent Village Activities / Amenities:
Fun: Lawn Games, Beer/Wine social (Friday afternoon)*, dance parties and a chance to win fun prizes.
USB port phone charging station
Community use shade canopies
Security – Someone from the Backyards & Beyond team will keep an eye on camp while you're out exploring the festival.
Coffee bar – Fresh Camacho coffee every morning
Best decorated tent contest**
Price: $650
*Festival admission NOT included 
Parking Pass Add-On: option to add on a car camping pass to park your vehicle next to your tent. Otherwise, you can still drop off your stuff but will need to park your vehicle in one of our designated parking areas.
Times: 
Check-in: Access to campsite starting the evening of Wednesday June 22nd at 5:00 PM
Check-out: Departure by noon on Sunday, June 26th
*Beer/Wine Social (Friday): Backyards & Beyond will bring beers from their favorite breweries to share at the social and encourage campers to do the same! If you would like to participate in this unique experience, bring some extra drinks to share with your neighbors. This is a great opportunity to brag about your favorite brewery, try something new, and meet and greet one another. Available while supplies last.
**Best Decorated Tent contest: That's right! Bring flair to customize your tent for a chance to win some cool prizes and bragging rights. We're talking pink lawn flamingos, tapestries, solar lights, yard gnomes, etc. Do your thing! Winners will be announced on Saturday.
***Pre-Set Tent Village hosted by Backyards & Beyond