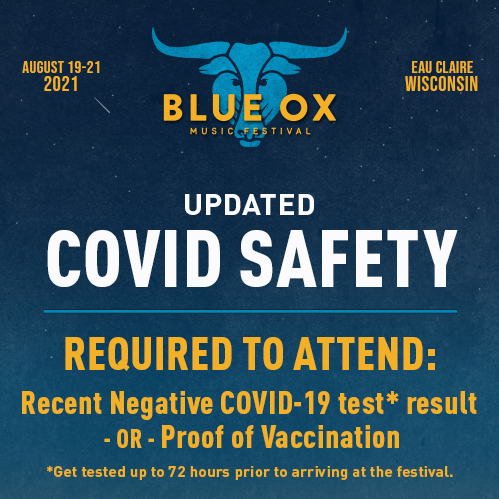 Updated COVID-19 Safety
Here at the Blue Ox Music Festival and The Pines Music Park, the safety of the artists, crew, attendees of the event, and our community are very important to us. As a result, we are following the path of the current COVID-19 pandemic closely, with careful consideration of the Delta variant that is currently moving throughout the country. Our team is staying informed from the Center for Disease Control (CDC), Eau Claire City and County Health Department, as well as solutions coming out of the music industry itself.
Blue Ox Music Festival is fortunate to be an outdoor event taking place across 120 acres which creates a safer environment to enjoy live music. Yet, we must all acknowledge that there is still a risk of exposure to COVID-19 at a gathering of people, and by attending, you assume the risk of exposure to the virus.
After careful consideration and informed discussions, with all parties involved, the 2021 Blue Ox Music Festival has decided that we must move forward with the following requirement of all attendees over the age of 12:
A RECENT NEGATIVE COVID-19 TEST RESULT
[ANTIGEN OR PCR]
– OR –
PROOF OF VACCINATION UPON ENTRY.
———————————————–
AVAILABLE OPTIONS TO ATTEND THE FESTIVAL –
All attendees 12 years old and over must show one of the following two options stated below:
OPTION 1 – PROOF OF VACCINATION – Provide proof that it has been 14 or more days since your final dose in a vaccine series. Vaccines are the best tool we have available to mitigate the risk of COVID-19 and will play an important role in getting live music performance back onstage in 2021 and beyond.
A photocopy or your original vaccine card, or photo on your phone is necessary and will be checked upon arrival.
*Lost your card? Wisconsin residents can look up their vaccination status HERE (SSN needed). We will accept a screenshot/print out of this record for proof of full vaccination. Other states may also have their own online database.
– OR –
OPTION 2 – GET TESTED FOR COVID-19 – Get tested up to 72 hours prior to arriving at the festival. We still recommend that all children under the age of 12 are tested, though it is not mandatory.
A copy of results in paper or digital form will suffice for this proof.
You will need proof of a negative test. Or as described above, to have completed a vaccination course (14 days post final vaccine dose) to attend the festival.
*Getting tested 3-5 days after the event is a good practice to protect your community at home.
Note: In the event of a positive test result in the pre-festival testing window you may request that your tickets are rolled over to our 2022 festival, we will process this after the festival and after confirming that your tickets were NOT redeemed at the gate.
---
COVID-19 Testing
Wisconsin Residents: Find a community test site HERE
*Negative COVID-19 test must be obtained with 72 hours of arrival.
If you do not have proof of vaccination and need to take a COVID-19 test for entry then we highly encourage you to take a test prior to your arrival at the festival. Taking a test in advance will decrease your wait time here. If you are unable to secure a test prior to arrival, then we will have FREE COVID-19 antigen (rapid) testing on-site which will take up to 30 minutes to show results.
On-site Testing Hours:
Wednesday, August 18th – Saturday, August 21st (10am – 7pm)
*August 18th testing only available to individuals who have a reserved campsite.
---
ADDITIONAL INFORMATION –
Face Masks: As per the CDC recommendation, fully vaccinated people can attend outdoor events without needing to wear a mask. Unvaccinated individuals should wear masks at indoor and outdoor gathering type events. We recommend attendees follow the mask guidelines that apply to their individual health situation. Please be mindful of those around you. We encourage all attendees to please consider wearing masks while in indoor spaces, as well as the bar areas, portable toilets, food and beverage lines, and other crowded areas. We are not enforcers, just stating the information given to us.
If you are concerned with protecting yourself while attending the festival, consider wearing a high-quality mask. Genuine KN-95 and N-95 masks are in better availability now and provide strong protection for those wearing them.
Sanitation: Hand washing stations and hand sanitizer will be set up around the concert area and campground. The portable toilets will be cleaned multiple times daily.
Empathy: Just remember everyone has different risk factors, vaccine status (?) , and levels of comfort attending these events. Please be considerate of those people around you. All of you are an important part of our community and we want each of you to be comfortable attending the Blue Ox Music Festival this year.
PLEASE STAY HOME IF YOU FEEL ILL!
IF YOU START TO FEEL ILL WHILE ATTENDING THE EVENT, PLEASE MASK UP IMMEDIATELY AND ISOLATE FROM OTHERS, LEAVE THE EVENT IF YOU ARE ABLE.
*Refunds will be available for the 2021 Blue Ox Music Festival only if the event is forced to be cancelled due to COVID-19 related Public Health Policy.