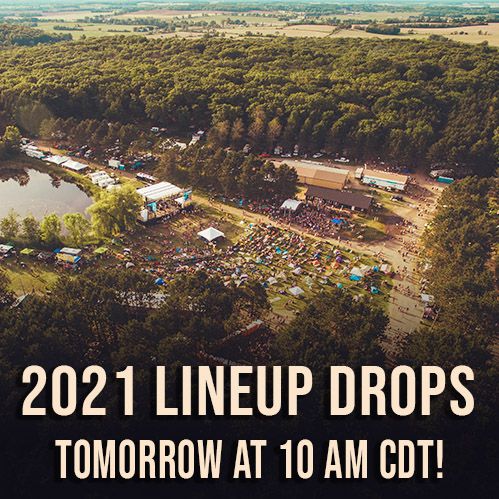 2021 Lineup Drops Tomorrow
All of us here at Blue Ox are feeling optimistic about 2021 and we cannot wait until we can all come together again at The Pines, August 19th-21st.
This upcoming year, Blue Ox will be a limited capacity event and due to rollovers, we are almost 50% sold out already, so we suggest that you buy early if you don't want to miss out.
3-day & 2-day tickets, car passes, and remaining reserved campsites will go on sale tomorrow, December 16th at 10 AM CDT in correlation with our official 2021 lineup announcement.  You will be able to purchase your ticket in-full or split your order into 4 equal payments using EZ pay.
---
What is EZ Pay?
For a small fee per order, you can buy your ticket(s), car pass and/or reserved campsite now with EZ pay and split the bill into 4 payments.
The first payment is due when your order is placed and equal payments will be charged to your card each month on the same day of the month of your original purchase.
Once your order is paid in full, your tickets will be emailed to you from our ticketing company Elevate.
To use EZ Pay, select this option during the check-out process. 
*All orders must be paid in full before August 12th.
---
Reserved Camping at Blue Ox 2021 
All newly available reserved campsites will be available for purchase starting tomorrow, December 16th at 10:00 AM CDT.
Learn More about Reserved Campsites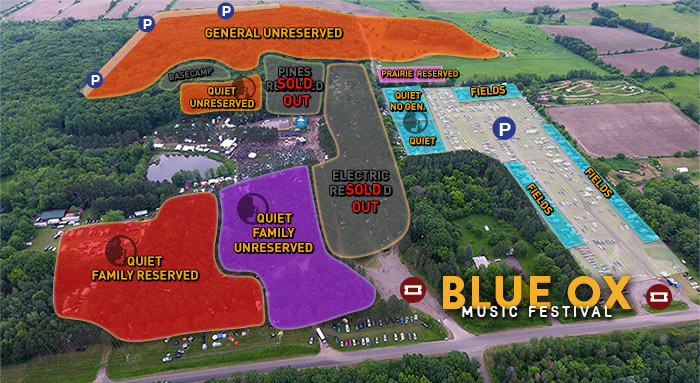 Very Limited Availability: Family Reserved (20′ x 30′)
Limited Availability: Prairie Reserved (25′ x 40′ & 25′ x 50′ & 25′ x 70′)
Availability: All areas of Fields Reserved, including Quiet (20′ x 30′)
Sold Out: Pines Reserved & Electric Reserved
**Have questions about camping or tickets? Visit the FAQs section on our website HERE
**The window for requesting refunds on your 2020 Blue Ox Music Festival tickets has closed. All tickets and campsites that were not refunded will be good for our 2021 festival
**Refunds for Blue Ox 2021 will be available only if the event is forced to cancel due to COVID-19 related Public Health Policy.