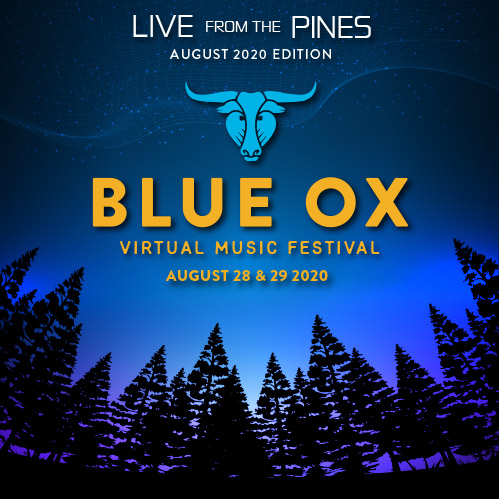 Live from the Pines: August Edition – Virtual Music Festival
AUGUST 28 & 29, 2020
CONNECTING THE FESTIVAL COMMUNITY VIRTUALLY WITH A LIVE BROADCAST BLUE OX EXPERIENCE!
Get ready…we're excited to announce that we're doing another virtual festival but this time around ALL of the performances will be streamed from Whispering Pines Campground in Eau Claire, Wisconsin. Live from the Pines, August Edition, taking place the evening of August 28th and 29th includes an all regional lineup featuring Charlie Parr, Horseshoes & Hand Grenades, Them Coulee Boys, Armchair Boogie, Chicken Wire Empire and Feeding LeRoy.
Friday August 28th
5:30 PM – 6:30 PM: Feeding LeRoy
7:00 PM – 8:15 PM: Them Coulee Boys
8:45 PM – 10:15 PM: Horseshoes & Hand Grenades
Saturday, August 29th
5:30 PM – 6:30 PM: Chicken Wire Empire
7:00 PM – 8:15 PM: Armchair Boogie
8:45 PM – 10:15 PM: Charlie Parr
*In between sets we will be showcasing archival Blue Ox performances so there will be no long breaks from the music like last time.
Make sure your friends and family are in the know and start planning your viewing party!
The Virtual Festival can be viewed in entirety on the official Blue Ox Music Festival YouTube channel with artist sets available on Facebook Live.
*Streamed in partnership with JamGrass TV
Would you like to attend this intimate event? More information can be found HERE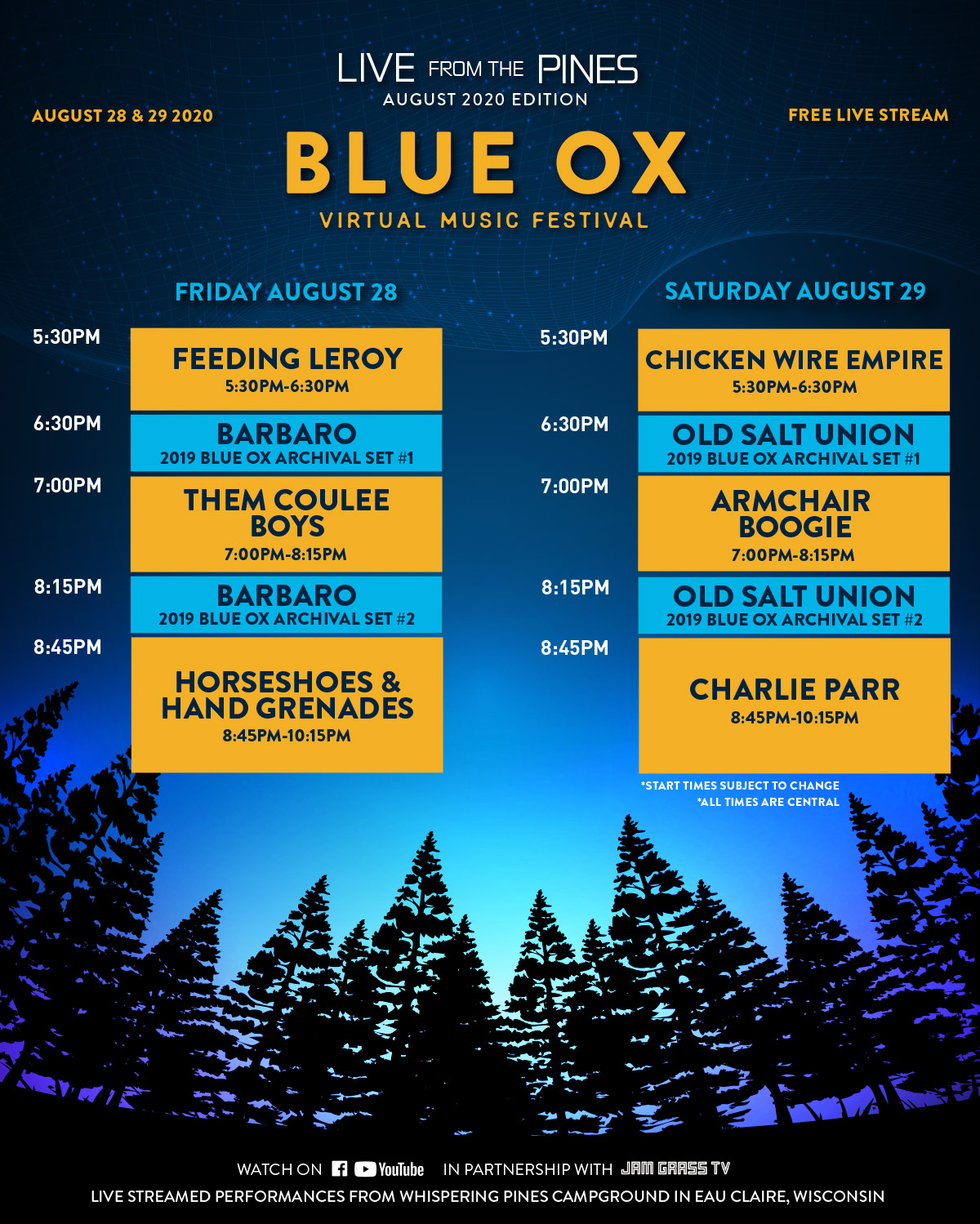 If Blue Ox has ever made an impact in your life, whether it was through the people you met here who are now your best friends, to opening your mind to new music and creative expression, to an unforgettable camping adventure, then please consider contributing if you can to help keep the experience alive into the future. In addition to helping assure our family owned festival's wellbeing, your contribution will also help cover the operational costs of putting this virtual event on, the performing artists and their crew.
Your generosity is greatly appreciated. Thank you for being such a supportive community! We look forward to seeing everyone in 2021!!!
Venmo: @Blueoxfest (Mark Bischel – Festival Organizer)
Paypal: Click here to donate through PayPal
GoFundMe: Click here to donate through GoFundMe
#saveourstages