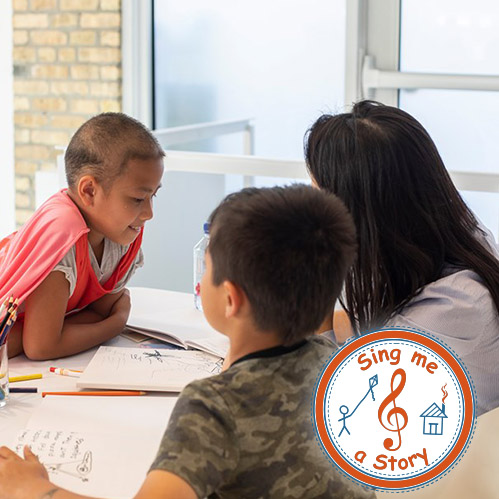 Sing Me A Story Foundation
We are proud to announce that we will be working with Austin Atteberry and Sing Me a Story once again this year. In the past we have had Blue Ox artists participate in this awesome project.  This year we want to open it up to our whole Blue Ox family!
Sing Me a Story gives children in need the opportunity to write/illustrate stories about anything they want. They then distribute those stories to songwriters who turn them into songs for the kids and their families. With over 4000 songwriters and currently working with 150 organizations serving children in need, they've grown steadily over their first 7 years. See how it works in this piece The Today Show did on them.
Sing Me a Story is reaching out to all  festival attendees, giving them the opportunity to record a song for a child in need while at Blue Ox 2020. For those interested musicians among us, you will have the opportunity to receive stories from children in need prior to the festival, choose one, turn it into a song and then record your song in Sing Me a Story's mobile recording studio onsite at the festival. This is made possible by Sing Me a Story supporters Breedlove Guitar and Gator Cases.
If you are interested in participating, please contact Sing Me a Story's Executive Director
Austin Atteberry at Austin@SingMeaStory.org
Recording times are limited so act fast!