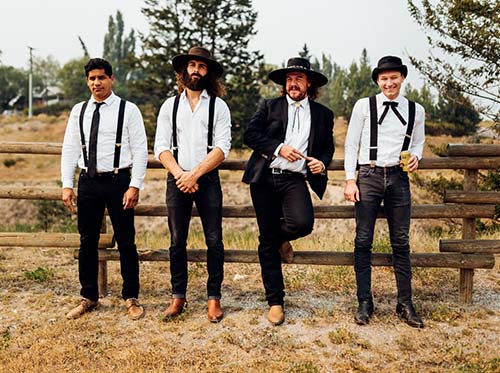 The Dead South
They wear white shirts and black suspenders, black pants and travellers' hats. They sing about murderous, estranged spouses and runaway lover cousins in a boot-stomping acoustic configuration that includes banjo, mandolin, cello and guitar, some whistles, hoots and hollerin', and finger snappin'. Sometimes their fans dress up like them too and dance and sing the night away – but that's not mandatory.
The Dead South is a four-piece acoustic ensemble based in Regina, Saskatchewan. With Nate Hilts' gritty vocals and aggressive guitar strumming, Scott Pringle's soaring harmonies and mandolin chops, Colton Crawford's blazing banjo licks and steady kick drum, and Danny Kenyon's prominent cello melodies, The Dead South blends elements of folk, bluegrass, classical, and rock which results in a unique, modern, and authentic blend of boot-stompin' acoustic music.
Some notable shows which include: showcasing at Reeperbahn Festival 2014, Canadian Music Week 2014, Regina Folk Festival, Ness Creek Music Festival, Gateway Music Festival, Juno Fest 2013 – 2014, Grey Cup Festival 2013 where they opened for Serena Ryder, Saskatchewan Party Premier's Dinner, The Works Art and Design Festival, All Folk'd Up Festival, Frontier Days Festival, Long Days Night Festival, Picker's Cup Festival, The Cathedral Village Arts Festival and many more..
The Dead South has continually pushed the energy of their live shows, as well as pushed what is possible between four ordinary acoustic instruments. The unique abilities and viewpoints of each band member make The Dead South an impossible band to duplicate.