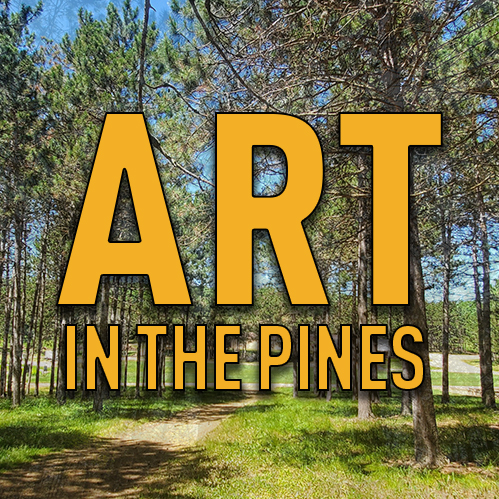 Art in the Pines
Art Installations & Performing Arts at Blue Ox 2021 sponsored by Visit Eau Claire
While the music is the main event, we're pleased to announce that this year we will be incorporating an assortment of unique and engaging art created and installed by regional artists which you will find spread around the campground and within the festival bowl.
Hint: Some of the beautiful art also makes for great photo opportunities.
Congratulations to the applicants who were chosen to be a part of Art in the Pines at Blue Ox 2021!
(We had a lot of amazing submissions and appreciate every one who submitted an idea this year.)
Babe's Balls – Christina Singleton and Matt Oliverson
"Babe's Balls" are strategically placed LED balls that will be lit up in the Pines Music Park pond. The balls will illuminate the pond water at night to give the Blue Ox grounds a magical vibe after the sun sets.
Location: Pond within the Music Festival Bowl
Blooming Canopy – Rebecca Froehlich
Many different flowers make a bouquet." Celebrate the beauty of diversity in a canopy made of hundreds of unique handmade flower designs.
Location: Soul Sanctuary within unreserved GA camping
Bluegrass in Wonderland Jubilee – Sarah Gleiss & Carolyn Adkins
Explore a magical Midwest wonderland in this interactive exhibit which celebrates the classic Alice in Wonderland, Bluegrass music and Wisconsin culture.
Location: Along pathway leading to the Backwoods Stage within unreserved GA camping
Enchanted Jellyfish Forest – Haley Schultz + Eric Pratt
A glowing jellyfish forest to light the way and add surreal nighttime magic!
Location: Backwoods Stage area within unreserved GA camping
Fire Spinning Performance – The Torch Sisters
This Eau Claire performing arts troupe incorporates elements of dance with flow props Building community and inspiring female empowerment motivates the Torch Sisters to train, create together and share their art with the Chippewa Valley community. Performing Saturday, August 21st at 10PM in the festival bowl.
Gathering  – Stacey Huffstutler (@spicecarnation)
A series of nesting pods and organic shapes to celebrate the act of gathering. Each year we travel here, bringing our own unique talents, stories and songs. We gather and build a temporary home. A place to share, rest, dance, play and grow… before flying back home. "Gathering" is a showing of my gratitude for this community. Thank you for being an essential piece of the whole. Felted wool/ natural fibers, dyed with plants.
Location: Along pathway leading to the Backwoods Stage within unreserved GA camping
Homecoming – Emily Anderson
Rock River Flowers is a small-scale cut flower farm on the banks of the Rock River in Edgerton, Wisconsin.  We are proudly part of the growing Slow Flowers movement, focused on sustainably grown flowers and foliage.  I hope the blooms we share today provide an opportunity to slow down and appreciate the beauty of this place.
Location: Music Festival Bowl
Lofty Dreams  – Zach Tauer & Friends
Using the shape of traditional bluegrass instruments, the artists overlay an imagery of color, using elements of abstraction, conception, and expression. It's a small reflection on how musicians have used these instruments to create ancient, new, expansive, and psychedelic music and sounds. UV reactive paint and UV lights were used to create a special nighttime interactive experience. Zach Tauer has attended Blue Ox Music Festival every year and plays banjo in the progressive bluegrass band Buffalo Galaxy.
Location: Music Festival Bowl and at the Pot Luck Pickin' Place 
Oxess in Bluegrassland – R.Fawell, Coven
While ramblin' and amblin' along the festival grounds, savor signage showcasing the whimsy and wonder of beloved, beguiling bluegrass ballads.
Location: Multiple locations around the campground and Music Festival Bowl
Transformation Tower w/Flags of Intention – Danelle Kraszewski, collaboration with Millville Arts & Four Wands Gallery
The installation draws upon conventions of place and time.  An Upcycled windmill holds a series of pulleys and ropes.  Viewers are encouraged to participate in the work by hand writing an intention on a fabric flag that will be tied to the ropes and be flown for the weekend.  At the festival's end, participants are encouraged to depart with a flag of intention to continue the collective gesture of environmental harmony.
Location: Along pathway leading to the Disc Golf Course / Prairie Reserved Area