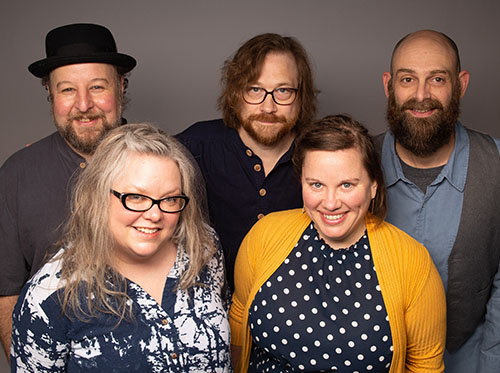 Short Round Stringband
A pan-Missouri band with a refreshing approach to old time music: Short Round Stringband is the coming together of two musical couples and a bassist with Kansas roots. The band members are Kelly Wells and Ryan Spearman (The Aching Hearts, St. Louis), Betse Ellis and Clarke Wyatt (Betse & Clarke, Kansas City), and bassist Chris DeVictor (Konza Swamp and more). Ryan was a founding member of High on the Hog, and Betse co-founded The Wilders – both roots bands with years of touring and multiple albums. With deep connections to old-time, country and Ozark tunes and songs, Short Round Stringband takes you on a moving journey through the sounds and stories of the American experience. Their hard driving fiddle tunes will get you out of your seat. Their vocal duets will bring a tear to your eye, and their song arrangements and presentations showcase a passion for the depth of tradition with a look to new creative paths. And in between all of that, you'll laugh at their madcap humor.
Short Round Stringband released its debut full-length album on July 19, 2019, entitled Ain't No Part of Nothin' — a tribute to Bill Monroe. The recording presents an old time, refreshing atmosphere for classic and lesser-known songs written and/or recorded by Monroe. Expect to enjoy some of Monroe's biggest hits, and be ready for surprises. There's even a collectible comic released in tandem, the first in a series illustrating the band's adventures.
The material selected for the album comes from different rooms in Monroe's musical house. Fans of Monroe are aware of his background playing old time songs and tunes before he founded the Blue Grass Boys and his continuing homage to his roots throughout his career. With this new album, Short Round maintains the traditional string band approach, highlighting lyrical content, harmony singing, and ensemble playing.
This band initially formed to perform a tribute set to John Hartford at the Bill Monroe Music Park (for the John Hartford Memorial Festival)… late night jam sessions at the festival provided a perfect catalyst to take a closer look at Bill Monroe's songs and repertoire for a tribute album. Short Round Stringband is an old time band, one not bound by so-called restrictions of genre or style. It's about the core of the music. If it rings true, if it's exciting to play, if it feels real, it's worth doing. Working on the selections for this album was an awakening experience.
Arranged, recorded, and produced by Short Round Stringband, Ain't No Part of Nothin' will bring joy to long-time bluegrass and old time music fans, and has the power to convert those who have yet to be convinced.