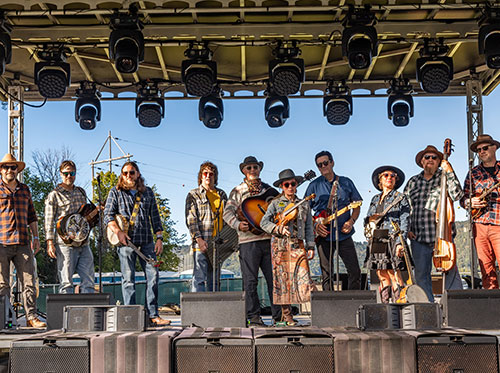 Potluck String Band
Performing Friday, June 23
For the last 6+ years, Minneapolis based Potluck String Band has been entertaining music lovers across the greater Midwest with their unique Americana/New Grass sound. Known for having up to 10 musicians on stage at times, PSB delivers an energetic, artfully blended String Band sound in support of their powerful and tightly woven 4 Part vocal harmonies. PSB released their first album, "Americana Underground" in September 2022.
The band organically evolved from a "Friday Potluck" open jam session they started in 2014. Over time, the group grew as friends brought new friends to join in, eventually resulting in the band officially forming in 2016.
Since then, PSB has maintained a busy schedule playing shows in many different venues and locations for all kinds of events, celebrations, and festivals. In addition, the band has gained recognition for creating and hosting an Open Jam at their campsite during Bluegrass Festivals, where musicians of all talent levels can join in the pickin' circle.
The audience can feel and share in Potluck String Band's love of playing music together for all to enjoy!