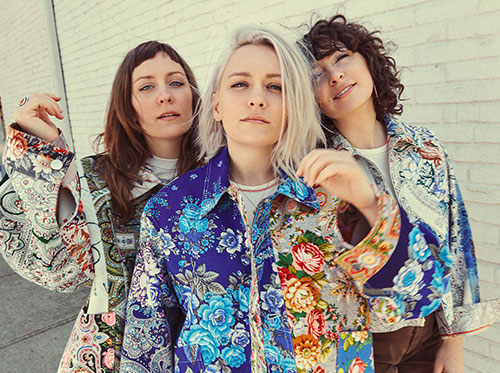 Joseph
Performing Saturday, June 25
The sophomore effort from Oregon-bred trio Joseph, Good Luck, Kid is a road movie in album form, an odyssey at turns emotional, existential, and entirely literal. With their intimate storytelling and restless intensity, Natalie Schepman and her sisters Allison and Meegan Closner detail that journey in songs that careen and sprawl and often soar, ultimately spinning a narrative of life-changing transformation.
"The through-line of the album is this idea of moving into the driver's seat of your own life—recognizing that you're the adult now, and everything's up to you from this moment on," says Natalie. "You're not completely sure of how to get where you need to go, and you don't have any kind of a map to help you. It's just the universe looking down on you like, 'Good luck, kid.'"
In the making of Good Luck, Kid, Joseph the Band deliberately strayed from the dreamy folk of their 2016 debut I'm Alone, No You're Not, giving way to a far grittier and more dynamic sound. Produced by Christian "Leggy" Langdon (Meg Myers, Charlotte OC), the result is a nuanced breed of pop/rock built on thick drums and lustrous guitars, heavy grooves and radiant melodies. Despite that bolder sonic palette, Good Luck, Kid remains centered on the band's crystalline vocal work, including the otherworldly harmonies that suggest a near-telepathic connection among sisters.
Good Luck, Kid documents what Natalie describes as "a rising-up out of the ashes," Joseph grace every song with the captivating chemistry they first discovered upon forming in 2014. Spontaneously choosing their name on a trip to visit their grandfather in the Oregon town of Joseph, the band got their start playing backyard parties, and gradually amassed a devoted fanbase. Following the release of I'm Alone, No You're Not—an album made with Mike Mogis (First Aid Kit, Jenny Lewis)—Joseph soon began taking the stage at major festivals like Bonnaroo and touring with such artists as James Bay and Amos Lee. As they brought Good Luck, Kid to life, the Closner sisters expanded on the elegant synergy of elements initially glimpsed on their debut: Meegan's sharp melodic skills, Allison's gift for uncovering the emotional heart of each track, and Natalie's extraordinary songwriting instincts. "Making this album, there were so many times when we'd be trying to come up with the next verse to a song, and Natalie would pull together something amazing completely out of nowhere," Allison recalls. "It's like she's some kind of magician."