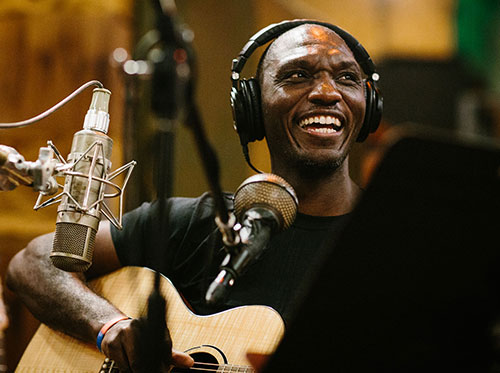 Cedric Burnside
Performing Friday, June 24
The blues is music for all time—past, present, and future—and few artists simultaneously exemplify those multiple temporal moments of the genre like North Mississippi's Cedric Burnside.
The Mississippi Hill Country blues guitarist and singer/songwriter contains within him the legacy and future of the region's prescient sound stories. At once African and American and southern and Mississippian, these stories tell about love, hurt, connection, and redemption in the South. His newest contribution to this tradition is I Be Trying, a 13-track album treatise on life's challenges, pleasures, and beauty. "Life can go any kind of way," Burnside says. With almost 30 years of performing and living blues in him, he would know.
Cedric Burnside's blues inheritance, the North Mississippi Hill Country blues, is distinct from its Delta or Texas counterparts in its commitment to polyrhythmic percussion and its refusal of familiar blues chord progressions. Often, and especially in Burnside's care, it leads with extended riffs that become sentences or pleas or exclamations, rendering the guitar like its West African antecedent, the talking drum. Riffs disappear behind and become one with the singer's voice, like the convergence of hill and horizon in the distance. Sometimes they become the only voice, saying what the singer cannot conjure the words for. Across some nine individual and collaborative album projects, Burnside's voice eases seamlessly into, through, and behind the riffs spirit gifts him, carrying listeners to a deep Mississippi well. There is mirror there in the water of that well, in Burnside's music, that shows us who and what we have been, who we are, and what we might be if we look and heed.
The 42-year-old Burnside was born in the blues as much as he was in funk, rock, soul, and hip-hop. These latter sensibilities are reflected across his work, as he drives Hill Country blues into grooves that lend themselves readily to an urgent, modern moment. But he is also keenly his grandfather's grandson, who he studied so carefully over a decade playing with him that he came to know him better than his own self. The elder Burnside blues man, the hill country blues luminary RL Burnside, and his wife Alice Mae wrapped their Holly Springs land and family in warmth, joy, and music. RL Burnside, alongside collaborators and contemporaries from David "Junior" Kimbrough to Jessie Mae Hemphill and Otha Turner, cultivated the sound and feeling of Black North Mississippi life and offered it up to the world. Cedric observed and absorbed this art world intently and with wonder as a child, declaring to himself, this is the music I want to play and I want to do that for the rest of my life. Moreover, this was the offering he, too, wanted to make, and the life of service to the spirit through blues that he wanted to live. By age 13, he was on the road with his "Big Daddy" Burnside, playing drums, being raised up by the music and the road, and developing the next, electric generation of the Hill Country calling and sound.