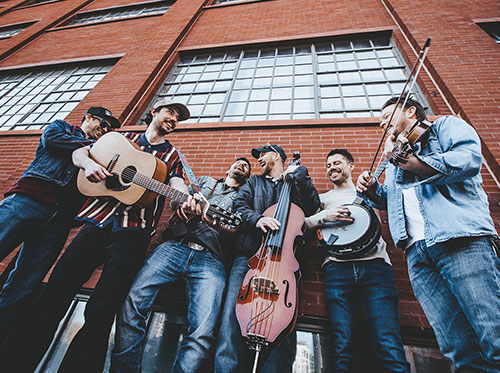 Brotherhood of Birds
Performing Friday, June 23
Brotherhood of Birds (BoB) is a Twin Cities-based, Minnesota progressive acoustic string band whose original compositions bring together traditional and modern styles.
After hatching in January 2021, the group released 2 EPs entitled "Caged Vol. 1 & 2". In the same year they played the historic First Avenue Main Room, Blue Ox Music Festival, Shangri-La Music Festival, and were featured in Bluegrass Standard magazine as well as on 88.5 Bluegrass Saturday Morning. In 2022 they were spotted on the lineup for Revival, Pickin' On Picknic, Boats & Bluegrass, MBOTMAs August Fest, Galactic Get Down, Sioux River Folk Fest, & Palisade Bluegrass Bash to name a few. They were most recently featured as First Avenue's Best New Bands of 2022. The bands tag team style line up makes every show unique while show casing some of the premier players in the genre that the twin cities has to offer.
BoB's core lineup consists of brothers Willie Christianson on guitar, & Cole Christianson on banjo, as well as Gavin Haskin on mandolin. The group has a number of rotating local players including fiddlers Chris Forsberg, AJ Srubas, Rachel Calvert, Danny Lentz & John Lane, multi instrumentalists Mike Hedding, David Robinson, Olivia Quintanilla, Alex Gelking, & Zack Taur, vocalists Jon Sullivan, Hannah Mae, & Ryan Gebhardt, along with upright players Matt Blake, Taylor Donskey, Brian Garrison, Peter Whiteman, Joe Barron, & Joe Sheehan.