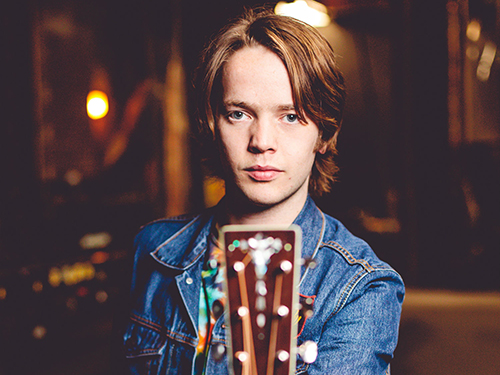 Billy Strings
Whether sharing stages with acoustic music royalty, crisscrossing the nation playing as a solo artist or performing high-energy, jaw-dropping sets at festivals, the reaction to Billy Strings tends to come in two varieties: "Who is this guy?" and "That kid can play!"
Raised in Michigan and based in Nashville, Strings — real name William Apostol — learned music from his father, who had learned it from his father, and his father before him. Maybe that's why at 24, Strings' songs, his articulation, his entire approach, sounds so authentic and steeped in tradition. Consider him the next in line of an Americana thread, not some upstart or bandwagon jumper.
While Strings' profile as a guitarist and singer in the acoustic/bluegrass scene continues to grow, he has already earned some landmark achievements. He has performed with Del McCoury, David Grisman and Larry Keel. He's landed coveted slots at festivals like Pickathon, and he's shared bills with popular touring acts Yonder Mountain Stringband, Leftover Salmon and Cabinet. And the industry has taken notice: He just won IBMA 2016 Momentum Awards Instrumentalist of the Year (for guitar, banjo and mandolin) and was voted #1 in The Bluegrass Situation's Top 16 of 16.
While the Billy Strings phenomenon is best experienced live and in person — if you're in Nashville, check him out during his weekly residency at The 5 Spot — if he's not coming to your town anytime soon, there's a self-titled EP he released in June of 2016 to dig into, a full-length debut on the way, and a slew of sessions for taste-making outlets like KEXP, The Bluegrass Situation and Second Story Garage available online.
What's next for Billy Strings? 2017 has him in the studio working on his first full length LP, a slew of festival and tour dates including support slots for Railroad Earth and The Infamous Stringdusters, a handful of dates as part of David Grisman Bluegrass Experience and much, much more. Keep an eye and an ear out as Billy will be coming to a town near you real soon.