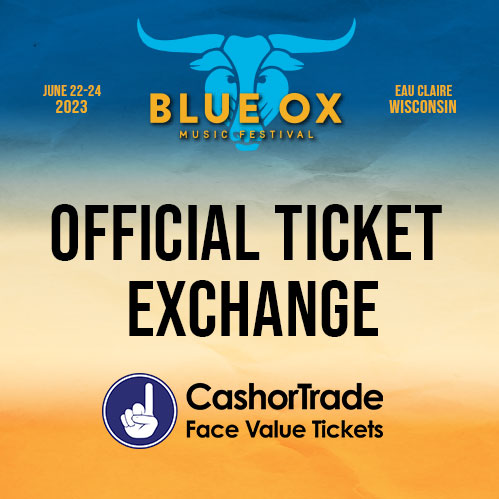 Official Ticket Exchange
Blue Ox 2023 is officially 𝗦𝗢𝗟𝗗 𝗢𝗨𝗧! We can't wait to celebrate our 9th festival year with you this June 22-24 at the Pines Music Park! Thank you for choosing to be a part of our festival community!
Still want to join us this year but missed out on tickets? Have plans changed and you can't make it anymore? We have teamed up with CashorTrade as the official fan-to-fan ticket exchange for Blue Ox 2023.
All tickets on CashorTrade are face value only. If you have tickets and can no longer attend, you can sell them to another fan on CashorTrade. It is FREE to sell — there are no fees for sellers. And if you are looking to purchase a sold-out ticket type, check to see what's available or set up an ISO (in search of) alert on CashorTrade.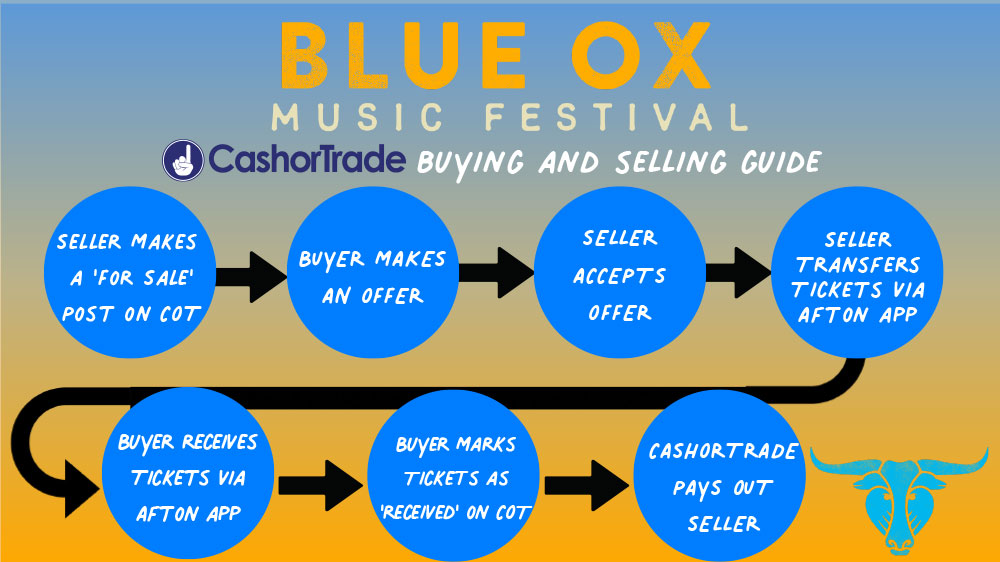 How to Conduct Safer 3rd Party Ticket Transfers:
Blue Ox Music Festival uses bar code scanning for ticket admission. As a result, fans should be careful when purchasing tickets and should make sure the seller is an authorized Blue Ox Music Festival ticket outlet, otherwise you may be purchasing a ticket that is invalid and will be denied admission.
The only way to ensure you have genuine tickets for the Blue Ox Music Festival or other events at the Pines Music Park is to purchase them directly from our websites or official ticket outlets. If you purchase tickets from an unauthorized agent in the secondary market (scalper, ticket broker, eBay, Craigslist, etc.) you risk purchasing counterfeit or invalid tickets.
If you do purchase tickets through a 3rd party or wish to sell your tickets, we ask that you take the proper precautions to avoid getting scammed. We have teamed up with CashorTrade as the official fan-to-fan ticket exchange for Blue Ox 2023 and recommend ONLY using the CashorTrade website for reselling/buying tickets for our festival this year since we are now sold out. Visit the Blue Ox Cash-or-Trade Website HERE!
DO NOT ACCEPT PRINTED TICKETS OR EMAILED PDF DOCUMENTS. These can be replicated and sent to anyone.
Use only purchase protected payment methods such as PayPal and make sure you send payment for goods or services, so purchase protection is in effect. MANY SCAMMERS WILL ASK YOU TO PAY A CERTAIN WAY TO AVOID THESE OFFICIAL SERVICES SO THEY CAN KEEP YOUR MONEY. You may need to clear it with the ticket seller first, as these payment methods do charge the seller a small fee, well worth the insurance though when purchasing from an unknown individual.
ONLY ACCEPT TICKETS THAT HAVE BEEN OFFICIALLY TRANSFERRED THROUGH THE BLUE OX TICKETING PARTNER AFTON TICKETS! This is the only way to ensure that you have a real ticket. Instructions on how to properly transfer tickets can be found HERE! When using the transfer process, tickets will be moved from the seller's Blue Ox/Afton Ticket account to the buyer's Blue Ox/Afton Ticket account.