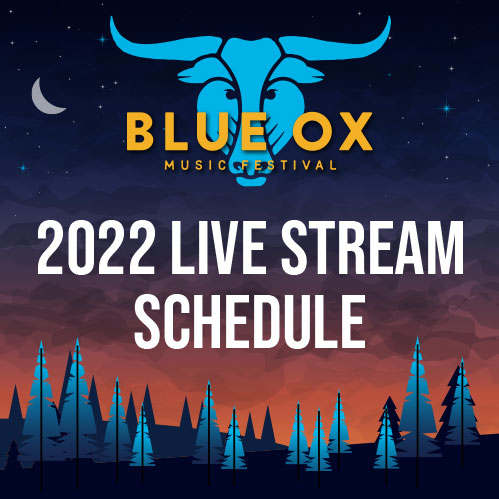 Live Stream 2022
There are multiple ways to watch and listen to the 2022 Blue Ox Music Festival.
Converge Radio 101.9 FM in Eau Claire will be streaming audio online and over the airwaves.
If you are looking for a video stream from the festival you are in luck! 
JAMGRASS TV WILL ONCE AGAIN BE STREAMING A LARGE PORTION OF THE WEEKEND'S ENTERTAINMENT
Performances from Blue Ox 2022 are no longer available to watch on YouTube.
Jamgrass TV streaming schedule is as follows:
*Performances and set-times subject to change
Thursday, June 23:
4:15 PM CDT— The Pistol Whippin' Party Penguins
4:45 PM CDT — Armchair Boogie
5:45 PM CDT— The Pistol Whippin' Party Penguins
6:15 PM CDT – Them Coulee Boys
8:15 PM CDT – Horseshoes & Hand Grenades
9:30 PM CDT – Daniel Donato
10:30 PM CDT – Railroad Earth
*All times in CDT and subject to change. Performances on the Backwoods Stage will not be available on the live stream
Friday, June 24:
11:30 AM CDT — Humbird
12:15 PM CDT — William Elliott Whitmore
1:15 PM CDT — Ryan Necci and the Buffalo Gospel
1:45 PM CDT — Cedric Burnside
2:45 PM CDT — Ryan Necci and the Buffalo Gospel
3:15 PM CDT — Fruition
4:15 PM CDT — Dig Deep
4:45 PM CDT – Samantha Fish
5:45 PM CDT – Dig Deep
6:15 PM CDT – Pert Near Sandstone
7:30 PM CDT – Mae Simpson
8:15 PM CDT – Old Crow Medicine Show
9:45 PM CDT – Chicken Wire Empire
10:45 PM CDT – Paul Cauthen
*All times in CDT and subject to change. Performances on the Backwoods Stage will not be available on the live stream
Saturday, June 25:
11:30 AM CDT — Laney Lou & the Bird Dogs
12:15 PM CDT — Okee Dokee Brothers
1:15 PM CDT — Good Morning Bedlam
1:45 PM CDT — Joseph
2:45 PM CDT — Good Morning Bedlam
3:15 PM CDT — Del McCoury Band
4:15 PM CDT — Erik Koskinen
4:45 PM CDT – Punch Brothers
5:45 PM CDT – Erik Koskinen
6:15 PM CDT – Sam Bush Band
7:30 PM CDT – Rumpke Mountain Boys
8:15 PM CDT – Pert Near Sandstone
9:30 PM – Tejon Street Corner Thieves
*All times in CDT and subject to change. Performances on the Backwoods Stage will not be available on the live stream
*Bela Fleck My Bluegrass Heart will not be available on the live stream