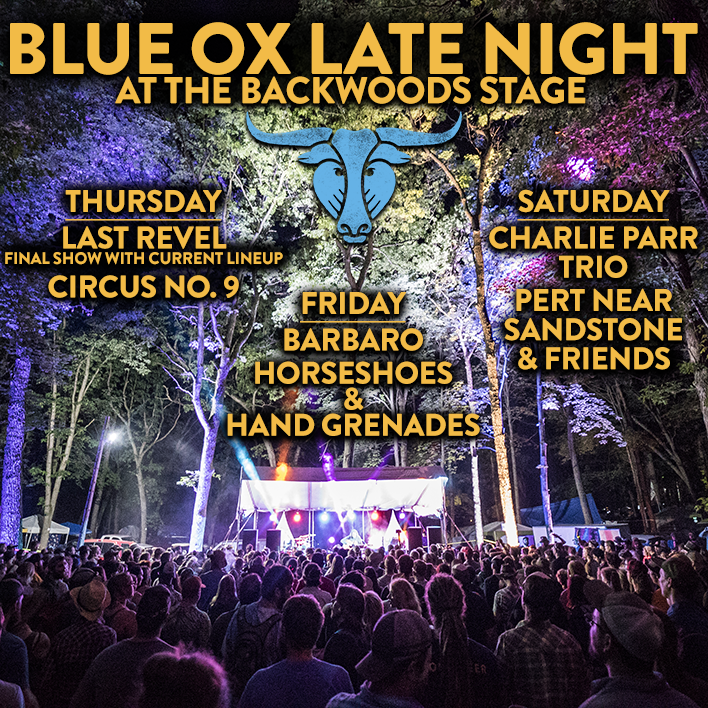 2018 Blue Ox Late Night Lineup
Here it is our 2018 Schedule for Late Night Music on the Backwoods Stage.
This year will feature a mix of Blue Ox favorites: Pert Near Sandstone, The Charlie Parr Trio, Horseshoes & Hand Grenades, as well as a very special show by the Last Revel. It will be the Last Revel's final show with their current lineup. In addition to fan favorites we have some really special newcomers. Circus No. 9, a hot new progressive bluegrass band from East Tennessee and Minnesota's own Barbaro. Don't miss out on all the action! Stay up late with us.
If you haven't yet pick up your tickets to the 2018 Blue Ox Music Festival, its coming up fast!
THURSDAY
12AM – 1AM: Last Revel (final show as a band with current lineup)
1AM – 2AM: Circus No. 9
FRIDAY
12AM – 1AM: Barbaro
1AM – 2AM: Horseshoes & Hand Grenades
SATURDAY
12AM – 1AM: Charlie Parr Trio
1AM – 2AM: Pert Near Sandstone & Friends